We finally had a few dry days around here so I was able to get out into the yard and begin to get caught up on the gardening chores. The vegetable garden was looking pretty forlorn, as I hadn't even torn out the old tomato plants yet. I got that done, dug up the last of my accidental potatoes (I didn't mean to grow them this year but had evidently left some in the ground last year.). These are the little fingerling potatoes and I'm not quite sure what I'm going to do with them yet. My leeks are on their last legs but still seem good. I'm not sure how long I can get away with leaving them in the ground before they do something odd or just get too tough to eat. But i harvested a handful of them yesterday, trimmed them up outside where I could just throw the green tops and the root ends into the compost.
I split them in quarters, cutting almost but not quite all the way through, washed them out under running water, and then soaked them in the sink for a bit to get all the dirt out.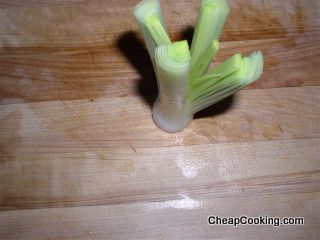 Unfortunately, we were rushing off the friend's house for dinner and I forgot to take a shot of the finished dish. But it went wonderfully with the barbecued salmon he made.
Braised Leek Gratin
Leeks are cooked in butter and broth, then topped with grated Parmesan and broiled.
Ingredients
1/4

cup

butter

4

leeks, trimmed and cleaned and cut in 4″ pieces

salt and pepper to taste

1/2

cup

broth

vegetable or chicken or water

1/2

cup

grated Parmesan
Instructions
Heat the butter over a medium heat until melted, add the leeks, and cook 5 minutes, stirring a few times. Add the broth, turn down the heat, cover, and simmer for 20 to 30 minutes until the leeks are tender, stirring now and again.

If there is a lot of liquid at the end, take the cover off and let most of it cook away. You want the leeks to be moist but not swimming in liquid. Put the leeks in a shallow baking dish, sprinkle the cheese over the leeks, and broil a few minutes.