I think I found the link to these on Chowhound.  But it prints really tiny and we keep making these and struggling to read the ingredients so I'm repeating it here. In large print! And so my daughters will quit asking me for the link. 😉  The name is as much description as you need: Chewy Almond Squares.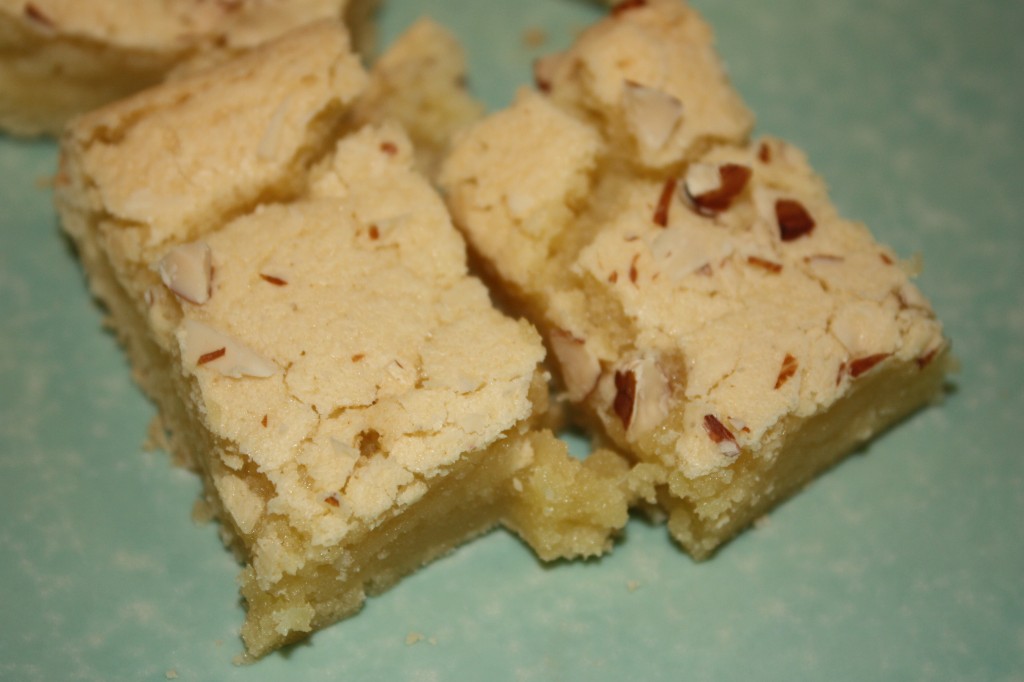 We've found we need to bake them toward the longer end of the range.  I've read that you can make chewy coconut squares by substituting coconut oil, coconut extract and flaked coconut, which sounds really yummy but I haven't tried it yet.  These have become a family favorite. They go together quickly so you can whip them up and have them cooking while you're fixing and eating dinner, as we did last night.
Chewy Almond Squares
If you love almonds, you will love these chewy almond squares.
Ingredients
2

eggs

1

cup

sugar

1/2

cup

vegetable oil

1

cup

flour

1/2

teaspoon

baking powder

a pinch of salt

2

teaspoons

almond extract

1/4

cup

or so of chopped or slivered almonds
Instructions
Preheat the oven to 350 F.

Butter and flour a 9×9 baking pan or line it with foil.

Beat the eggs until well mixed, then mix in the sugar.

Add the oil, flour, baking powder, salt and almond extract and mix well.

Scrape the batter into the pan and top with the chopped or slivered almonds.

Bake 25-30 minutes, until a toothpick inserted in the middle comes out clean.

Let cool on a wire rack before cutting.