Earlier I made this great grilled Greek chicken for dinner and purposely cooked an extra chicken breast because we can always find a good use for good cooked chicken in our lunches. Today I made this curried chicken sandwich and it was really good.
First I mixed up some plain chicken salad with it, so my girls could enjoy that in a sandwich.  But for my portion I added some curry powder and chopped grapes. Then I spread some mango chutney on one piece of the bread and topped with a slice of Romaine lettuce. I really liked the spice of the curry powder with the sweetness of the grapes and the crunch of the lettuce and diced dill pickles.
I'm sure the sandwich was even better because I'd made bread over the weekend in my bread machine. (It's a Zojirushi BB-CEC20WB Home Bakery Supreme 2-Pound-Loaf Breadmaker, White
. That's an affiliate link so I make a small commission if you buy something from Amazon after clicking on that link).  The joys of having a bread machine is that it's really easy to whip up "fancy" bread when you'd like. This had ricotta cheese and fresh chives from my garden.  Super tasty. Half of it was gone the day I baked it.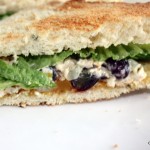 Print Recipe
Curried Chicken Salad Sandwich with Mango Chutney
Ingredients
1

cooked chicken breasts, chopped

diced or minced as you prefer

approximately 3 Tbs mayonnaise

1/4

cup

diced dill pickle or sweet pickle relish

salt and pepper to taste

1/4

tsp

of curry powder

1/4

cup

diced grapes

1

Tbs

Major Grey's Mango Chutney per sandwich

1

slice

Romaine lettuce per sandwich
Instructions
Mix chicken, mayonnaise, pickle, salt, pepper,curry powder and grapes together.

Taste and adjust. Depending on the spiciness of your curry powder you may want more or less. And depending on how your chicken was cooked you may want more salt and pepper. Mine was pretty well seasoned as I used

grilled Greek chicken

.

If you're making for this for wee folks of different tastes, you can mix up everything but the curry powder (and possibly grapes) and then add some of that to just the portion reserved for grownup tastes.

Toast your bread.

Spread one slice with some mango chutney.

Spread chicken salad over it.

Top with some Romaine lettuce.

Slice and serve.
I work at home and can easily get bored with leftovers for lunch.  This uses leftover chicken but doesn't taste like leftovers for lunch to me!  Definitely tasted like something you'd order eating out and was really hardly any effort beyond making a boring chicken salad sandwich.
Save