I don't watch cooking shows very often, but these black bean burgers on Sandra Lee's Money Saving Recipes were intrigued me. My parents came down on Wednesday to stay with us so my mom and I could start on Thanksgiving preparations. I knew they are always willing to try new foods and enjoy low fat recipes so I decided to try them out on my parents!
We agreed the flavor was wonderful but the burgers definitely fell apart. I was using sliced sourdough toast rather than hamburger buns so perhaps I made the burgers a bit larger than could easily bind. I might try making smaller burgers next time or adding more binding (more breadcrumbs and maybe more egg).
Sandra Lee's Black Bean Burgers
Ingredients
1/2

an onion, chopped

2-3

cloves

garlic, chopped

2

15-oz

cans black beans, rinsed, drained and divided

2

Tbs

chopped fresh cilantro

2

tsp

chopped fresh parsley

1

egg

1/2

teaspoon

red pepper flakes

1/2

cup 

bread crumbs

Salt and pepper to taste
Instructions
Put the onion and garlic in a food processor and pulse a few times until chopped. Add one can of the black beans (rinsed and drained), cilantro, parsley, egg and red pepper. Pulse a few times so the beans are mashed but not totally smooth.


Move this mix into a bowl, add the bread crumbs and the other can of drained and rinsed black beans. Mix together, adding the salt and pepper to taste as you combine everything.

Preheat your grill and form the mixture into roughly 6 patties (or set aside however much you'd like for enchiladas or tacos).  Cook 3-4 minutes on a George Foreman grill.
Notes
This recipe makes enough for about 6 burgers or you can set some of the mixture aside and make black bean echiladas or tacos later if you need fewer burgers.
Serve on a tasted bun or bread with the condiments of your choice. We had lettuce, mustard, sliced tomato and pickles.
Oven Baked Sweet Potato Fries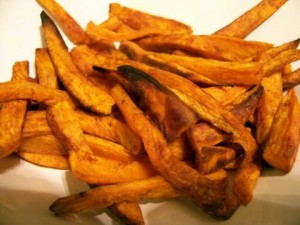 I served these with another batch of sweet potato fries, which came out awesome again. My parents loved both dishes.  Hardly a recipe but I peeled up some sweet potatoes and cut into thin strips by slicing the potato length-wise into about 1/4″ to 1/2″ slices, then stacking those slices and cutting length-wise again to form the fries.  Put these in a bowl and coat lightly with olive oil, then sprinkle with salt, cinnamon and paprika.
Bake on a jelly roll pan at 425 for about 30 minutes, checking periodically and stirring a bit.