I'd forgotten how much I like jicama. I used to just cut it up and serve it with vegetables anytime we did vegetables and dip at parties but I can't remember the last time I bought one. I saw this jicama salad in Mexican Everyday by Rick Bayless and decided it would make a great side dish with the chipotle meatballs from the same book.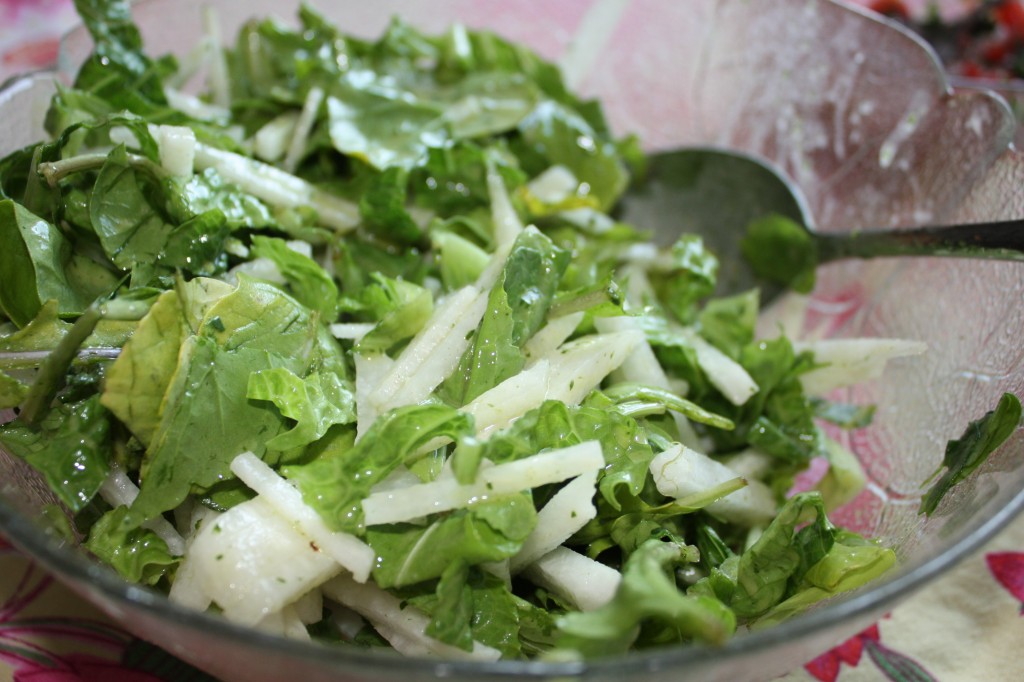 You can make the dressing up ahead of time–and you'll have more than you need for one salad but I think it would be delicious on other salads, too. Also, I'm posting the recipe as it is in the book but I ended up adding a bit more cilantro and lime juice so I think next time I'll make it with less oil. I used arugula because I couldn't find watercress. He also suggests you could swap out some of the jicama for cucumber, and top with toasted pine nuts.
Lime-Cilantro Dressing
A great side dish for a Mexican dinner, this crunchy salad with jicama, arugula and Romaine lettuce has a delicious lime-cilantro dressing.
Ingredients
3/4

cup

or a bit less vegetable oil, olive oil or a mix of the two

1/3

cup

lime juice

1/2

teaspoon

grated lime zest

1/2

cup

chopped cilantro

scant 1 teaspoon salt

1

jalapeno, stemmed and chopped

optional

*

1

medium jicama, peeled and cut into sticks about 2 inches long and 1/4″ wide

2

cups

arugula or watercress, large stems removed

2

cups

Romaine lettuce, cut into 1/4″ slices crosswise
Instructions
Put oil, lime juice, lime zest, cilantro, salt and jalapeno in a food processor or blender and blend. Pour into a jar and set aside.

Toss the salad ingredients together then dress with about 1/4 cup of the dressing.