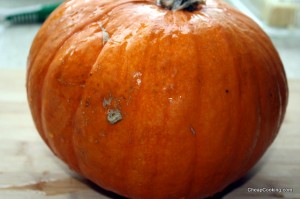 I cooked one of my homegrown pumpkins to make a pumpkin pie this year.  I still have 5 more to cook!  The pie was fantastic!  Everyone that tasted it commented on how good it was.  Shall we just say that real cream and fresh pumpkin tastes way better than canned milk and canned pumpkin?  I cut the pumpkin up into big chunks and roasted it in the oven until I could pierce a fork through the skin. Then I let the pieces cool a bit and scraped them out, saving the seeds for roasted pumpkin seeds and putting the string bits and the skin in the compost.  I ran what was left, including bits of skin through my KitchenAid FVSP Fruit and Vegetable Strainer Parts for Food Grinder
, which works great.  The pumpkin can still have a lot of liquid in it to mess up a recipe calling for canned pumpkin puree so I strained it through some cheesecloth for an hour or so.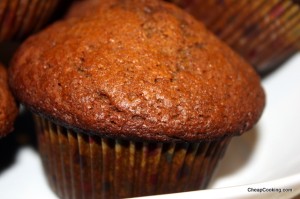 After making the pie I was left with just about a cup of pumpkin puree so tucked it in the fridge to make muffins later.  I used a recipe from The Fannie Farmer Baking Book
. I only had half the amount of molasses called for because my eldest had just used a bunch up to bake her gingerbread house we'll be decorating in a few weeks so used honey for the other half.  My youngest wasn't crazy about them. She said they tasted like gingerbread.  I thought they were great! So if you like gingerbread, you might like these pumpkin muffins!  As I'm typing this up I just realized I only put 1/4 cup of brown sugar in instead of 3/4 cup.  Getting old sucks!  My vision isn't what it used to be with small type!  I did have to bake them a bit longer but am not sure the sugar could account for that.
Pumpkin Muffins from a Homegrown Pumpkin
Ingredients
1/2

cup

butter

softened

1/4

cup

brown sugar

original recipe called for 3/4 cup!

1/3

cup

molasses

I used half molasses and half honey as I ran out of molasses

1

cup

mashed cooked pumpkin

1

egg

1 3/4

cup

flour

1/2

tsp

salt

1

tsp

baking soda

1 1/2

tsp

cinnamon

1

tsp

nutmeg
Instructions
Preheat your oven to 400 F.

Blend the butter, sugar and molasses (or molasses and honey) until creamy. Add the egg and pumpkin and mix well.

If you want to be good, mix the dry ingredients together in a second bowl, then stir into the wet ingredients. If you're lazy like me and want to avoid washing another bowl, measure the flour onto the wet ingredients, then sprinkle the rest of the dry ingredients over the top of the flour so it has a better chance of mixing well and not clumping together.

This made 8 good sized muffins for me. You could make more smaller ones if you'd rather. I really piled it into the baking cups! Grease your muffin tins or line with paper cups and fill. Bake 15-20 minutes. I filled mine to the brim and they took about 20 minutes. Test by slipping a toothpick into the middle and pulling it back out. It should be clean! If it's gooey at all, give them a few more minutes and test again.