The other night I set out to make Reuben sandwiches and for that you need know how to make Russian dressing. You could buy it of course but that's no fun! There's lots of variations in recipes, although most have ketchup (or chili sauce), mayonnaise and horseradish. After that, you might have minced or grated onion, lemon juice, celery and pimentos, dry mustard… I went with the version in The Joy of Cooking, primarily because I gave a copy of that to my eldest for Christmas and I've been reminded about how much is in there! Plus, celery and pimentos just seemed weird to me.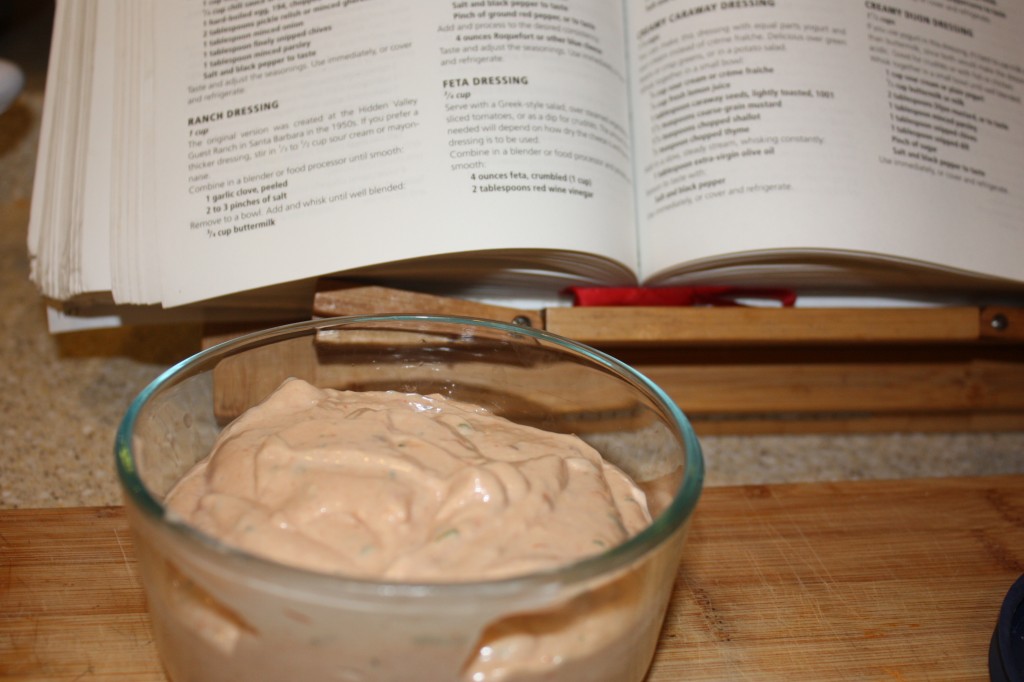 The recipe calls for chili sauce or ketchup. I don't use chili sauce very often but had recently opened a bottle. On New Year's Eve, I'd heated Little Smokie's (small sausages) in the mini crockpot with grape jelly and chili sauce, an old throwback. I'd also made some cocktail sauce to go with the shrimp we had. So I used the rest of the bottle in making the Russian dressing. I think it adds a nice zing but would also make this with ketchup. I used the optional Worcestershire sauce because I think almost everything is better with Worcestershire. I left out the optional 3 Tablespoons of caviar or salmon roe.
Russian Dressing
An easy Russian dressing recipe–perfect for Reuben sandwiches!
Ingredients
1

cup

mayonnaise

1 /4

cup

ketchup or chili sauce

1

Tablespoon

horseradish

1

Tablespoon

fresh chopped parsley

2

teaspoon

Worcestershire sauce

optional

1

teaspoon

grated onion
Instructions
Mix everything together and chill before using so the flavors have a chance to blend.