I remember the first time I had this, about 17 years ago. A neighborhood mom I'd met at the park invited the three of us over for dinner with her three kids. She threw this dish together with spaghetti, bacon, onions and eggs. She made it look so easy to feed seven people! The kids all loved it, as did I.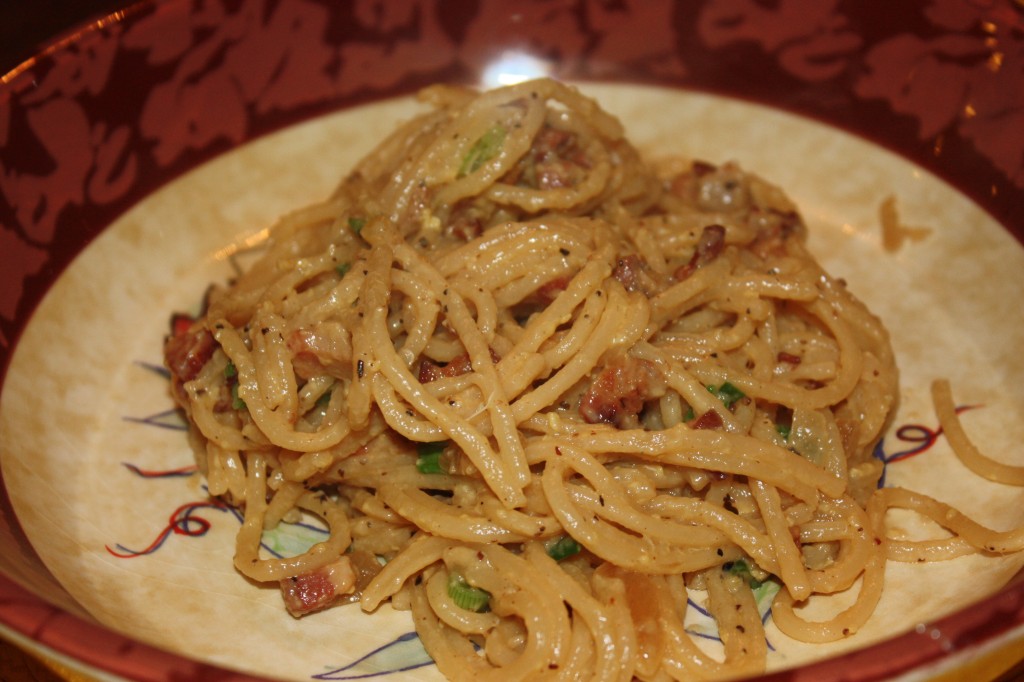 I made it a few times and then forgot about it until I saw the recipe in Lidia's Italy in America. She calls for pancetta but you can use bacon, which is what I've done every other time I made. But I saw diced pancetta at the grocery store and picked it up. I made it last night, going heavier on the black pepper than I would have when the girls were little.
It was fantastic and I'm happy that there was some left over for lunch. I roughly halved Lidia's recipe but used 4 ounces of pancetta rather than 3 since I didn't really want any leftover. I also used a whole egg rather than just the egg yolk.
Spaghetti Carbonara
Bacon, eggs, cheese and pasta in a delicous, simple spaghetti carbonara.
Ingredients
salt

1/2

pound

spaghetti

3-4

ounces

bacon or pancetta, diced

1/2

cup

chopped onion

about 1/2 a small onion

1

large egg

1/2

cup

of scallions

green onions, trimmed and chopped

1/2

teaspoon

black pepper

1/2

cup

grated Parmesan cheese
Instructions
Bring a large pot of salted water to boil.

Cook the bacon or pancetta over medium heat in a skillet large enough to hold all your pasta once it's cooked. Cook, stirring, about 5 minutes.

Add the onion to the pancetta. And now is a good time to add your spaghetti to the boiling water and set your timer for however long the pasta takes. Mine was 11 minutes.

Cook the onion and pancetta another 5 minutes, keeping them in separate halves of the pan, stirring. After the 5 minutes, stir them altogether.

Add 2 cups of the pasta water to the onion and pancetta. Bring to a boil and keep at a boil, stirring now and then. Cook this down to about half.

In a small bowl, beat the egg slightly then add 1/8 cup hot pasta water and stir into the egg. (This keeps the egg from scrambling when you add it to the pasta.)

When the sauce has reduced by half and the spaghetti is cooked al dente, scoop the pasta up with tongs, let it drain a little and then put it into the skillet with the pancetta and onion. Stir in the scallions , pepper and salt to taste.

Toss the pasta until the scallions are wilted. Turn off the heat.

Quickly mix in the egg, stirring until the spaghetti is coated and creamy. Mix in the cheese and serve.