The rhubarb in the garden is ready!  I planted it three years ago, so left it alone the first year, then harvested lightly last year. This year I get to go to town. 🙂  I shared some with a neighbor I know loves rhubarb. My daughter and I made a strawberry rhubarb pie the other day since we had some strawberries left over.  She said if I mixed up and rolled out the crust she'd do the rest. Such a deal.  She opted to make a lattice top crust, which came out really good.
Every time we make a lattice crust it reminds me of when the girls were little and they would make a basket weave placemat of construction paper at school and bring it home.
If you don't have any strawberries, just use 4 cups of sliced rhubarb.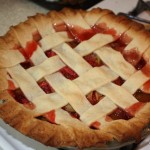 Print Recipe
Strawberry Rhubarb Pie
Ingredients
3

cups

sliced rhubarb

1

cup

sliced strawberries

1 1/2

cups

sugar

3

Tbs

quick cooking tapioca

a pinch of salt

1/4

tsp

ground nutmeg

2 pie crusts
Instructions
Mix together the rhubarb, strawberries, sugar, tapioca, salt and nutmeg. Let stand for 20 minutes.

Meanwhile, mix up the pie crust and divide in half.

Preheat the oven to 400F.

Roll out half for the bottom crust and line your pie plate.

Roll out the other half into a equally circular pie crust.

Fill the pie with the filling.

Cut the 2nd pie crust into 3/4" inch strips.

Lay out half of them across the pie, then peel back every other one leaving about 1" laying across the filling.

Lay one of the other strips down across the pieces, then lay the ones you folded back down across the new strips.

Pull back the OTHER pieces (the ones you didn't pull back the first time) and lay another strip down.

Repeat until the crust is covered.

I didn't take pictures so you might find this

tutorial

helpful.

Bake 35-50 minutes.
Save