I saw this Cornbread Salad in A Gracious Plenty, a cookbook I read about on the Chowhound home cooking board. (Warning: This board can do serious damage to your cookbook budget!) Even though it didn't win the "cookbook of the month" (where everyone cooks and reviews recipes from the same cookbook), I wanted it. The good news is that it's old so you can find used copies available. In fact that's all you can find! The book is called A Gracious Plenty and the subtitle is Recipes and Recollections from the American South. It's fun reading AND fun cooking. All for $8. 😉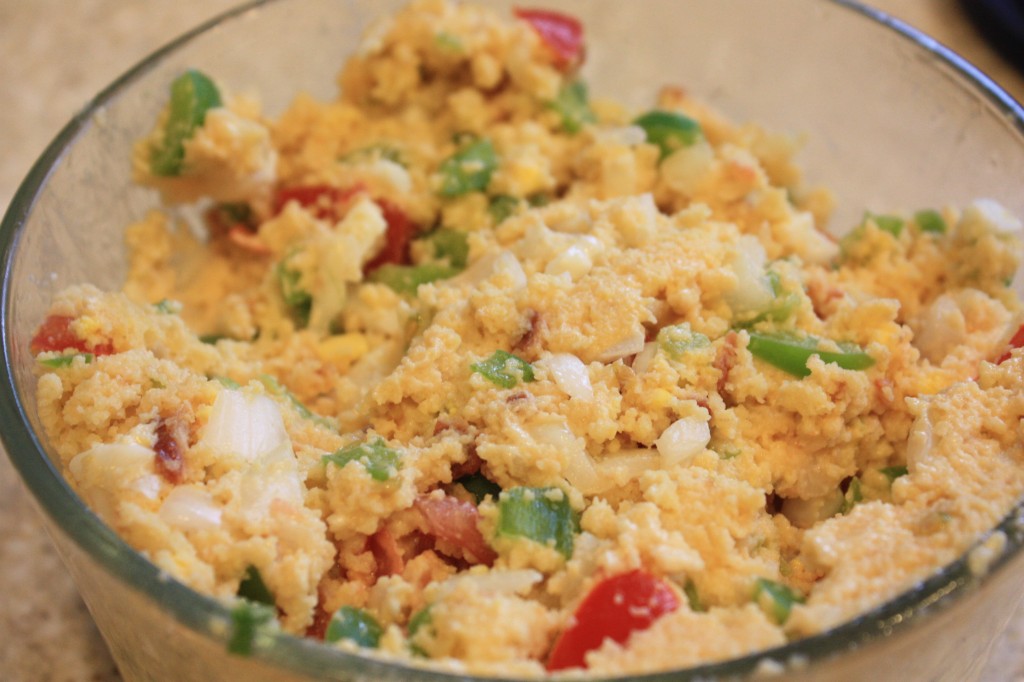 My youngest just returned from a semester abroad in Australia and the other night she asked if we could have grilled hamburgers for dinner "with salads." I had some leftover cucumber salad and bean salad but I wanted something new to add. She'd gone out with a friend for a bit so would be late and I was puttering. I pulled this book out and spotted a recipe for cornbread salad. I had leftover cornbread and it intrigued me, although I feared as I was mixing it up that it would somehow be bad and I would throw it out and waste not just cornbread but bacon! But no fears. It is delicious! I don't quite know how to describe it. I can usually read a recipe and figure out what the dish will taste like but I couldn't quite with this one. So just trust me.
Oh, I made a half recipe as I had half a 9×9 pan of cornbread left over. The chickens are sorry I found this recipe as they used to enjoy the leftover cornbread. And you can add some cayenne pepper if you like the spice.
Cornbread Salad from A Gracious Plenty
Make this delicious cornbread salad with some leftover cornbread.
Ingredients
half a 9×9 pan of baked cornbread

4

slices

bacon, cooked and crumbled

1/2

an onion, chopped

1/2

a green pepper, chopped

1

hard boiled egg, chopped

1 to

mato, chopped

1/2

cup

mayonnaise
Instructions
Mix everything together.

Chill until serving.

Optionally, add some cayenne pepper if you'd like some heat.