I was in the mood for soup and had chicken broth in the freezer, but no cooked chicken. Could have added some chicken pieces to this if I wanted more protein but I'd had a bean heavy lunch and didn't feel the need. I used a few cups of leftover mixed vegetables I had in the freezer that I labeled "for vegetable soup." Some carrots, diced tomatoes, tomato sauce, celery, peas. Started with a quart of my homemade chicken broth but it was concentrated so I added a few extra cups of water. If you don't like spicy, you can leave out the Creole seasoning and just call it vegetable soup.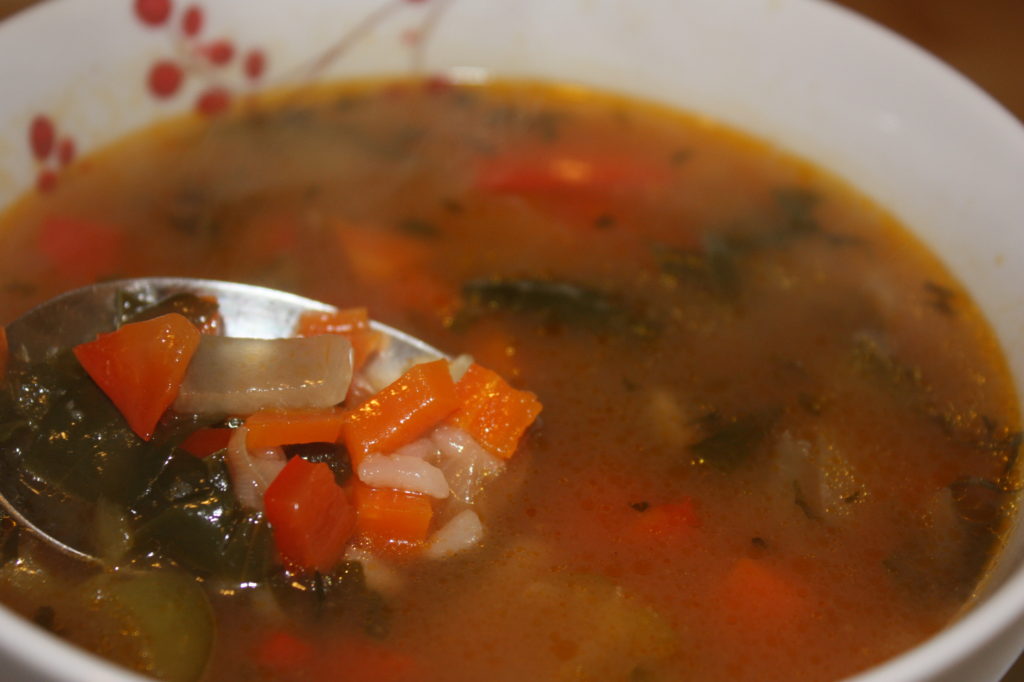 Soup is so flexible–as long as you have good broth!  You could of course start this all by browning some chicken pieces in the pot with the oil, then adding water to make your own broth.
Creole Chicken Soup
Ingredients
2

Tbs

oil

1/2 -1/3

cup

diced yellow onion

2

green onions

sliced

1

carrot

peeled and diced

1

stalk of celery

diced

1

large clove garlic

minced

2

tsp

creole spice mix

like Emeril's or Tony Chachere's

a bit of fresh or dried parsley

1

cup

or so raw spinach leaves

chopped

2

cups

mixed vegetables 

I added a half a red pepper, diced, to the vegetable mix from the freezer

6

cups

chicken broth

1/2

cup

rice
Instructions
Heat the oil in a soup pan and cook the yellow or white onion, carrot, celery, garlic and green onion.  Cook about 5 minutes, stirring, until the onion is softened.  Add the spice mix, spinach and other vegetables (could be zucchini, cabbage, kale, green beans, yellow beans, whatever you have around). cook another minute or two, stirring.

Add the chicken broth and the rice and cook simmering for 25 minutes or so. You could also add cooked beans if you like, or add them instead of the rice. Or some diced potatoes.  Or pasta.  Or skip the starch altogether if you wanted a side soup rather than a main dish.  Most people would probably enjoy some diced cooked chicken or you could add some raw chicken pieces and then remove then after they are cooked (probably about 30 minutes), shred the meat and return it to the pot.
I also like a bit of bread with my soup, either sliced and served with or made into a large crouton like thing and put on top of the soup. Tonight, I pulled a few slices of a baguette from the freezer (just slice and freeze!) and then buttered them and topped with a seasoning that was originally meant as a salad topping. I put those under the broiler a few minutes until the crisped up then put on top of the soup. Perfect!
Save