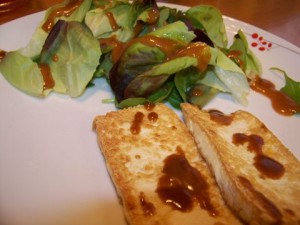 I made this pan-fried tofu and greens with peanut dressing from Cooking Light last night for dinner. Their picture is much better than mine so I'm just linking! However, there was no miso to be found at my local Safeway so I settled for a bottled Thai peanut dressing mix instead. It was good. We both ate it.  But I supplemented with some frozen pot stickers to round out the meal because i was worried about it.
I think it would have been much better with homemade dressing from the original recipe rather than bottled sauce, as is so often true!
Next on my list to try is their Tofu and Coconut Curry Soup.