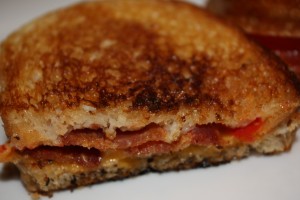 The days are warm but the nights are cool. The tomatoes are slowing down and getting thicker skinned but still taste fantastic. The last of the apples are ripening. The figs are done.  The beets and carrots are waiting in the ground. The hens are slowing down in their laying as well, getting ready for winter. The grapefruit and oranges are ripening on the trees. I would say that the persimmons were ripening as well but a gang of squirrels has been eating them before they even started ripening. I've never had that happen before.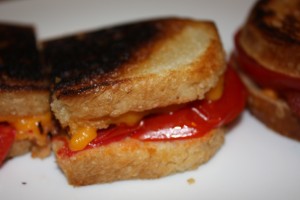 The intersection of seasons makes for interesting menus sometimes. Last night, I was torn between summer food (BLTs) and winter food (grilled cheese with tomato soup)  so I combined them. This is an idea well worth repeating.
The sandwiches got a little over-grilled but still tasted good.