When I was at the farmer's market the other day, the lady in front of me was buying beets, as was I. But as her items were being bagged, she asked the farmer to cut off the beet greens!  The farmer stuffed them in a bag that already had several bunches of beet greens in it and set it back down on the table.
When I handed the farmer my beets and green onions and parsley, I asked her "She didn't want the greens?!" The farmer shook her head and said "Do you want them? I always have plenty!" So I came home with a LOT of beet greens.
You can cook beet greens pretty much the same way you cook chard. Separate the stems and cook them a bit more than the leafy parts. Heat a little oil and add some garlic slices, then the chopped stems. If there is water clinging to the beet greens, that's fine. It will help them steam. Cook for a minute or two, maybe adding some water, then add the chopped greens and cook another few minutes. Serve with lemon wedges for squeezing over or with vinegar. 
Last night I felt like pasta so I cooked up the beet greens while I cooked some spaghetti. I used more garlic and added some leftover tomato sauce to the beet greens. When the pasta was done, I lifted it by tongs into the beets and stirred until everything was mixed, then I topped it with some bread crumbs and grated Parmesan. Oh my was it good!
I learned to lift the pasta from the water from Lidia Bastianich, who also taught me what a "spider strainer" was. It has come in very handy!
You could just use plain bread crumbs on top (or even skip them) but cooking them in a bit of oil or butter and then adding some herbs  adds a lot.  Lemon zest would be good too.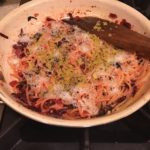 Print Recipe
Pasta with Beet Greens
Ingredients
Bread Crumbs
1

Tbs

olive oil

1/4

cup

bread crumbs

1/2

tsp

dried oregano

1

tsp

fresh chopped parsley
Beet Greens and Pasta
1

bunch

beet greens (from 3-4 beets), stems separated and chopped. leafy greens chopped or sliced

2

Tbs

olive oil, divided

2

cloves

garlic, sliced

1

tsp

salt plus more for pasta water

1/2

tsp

red pepper flakes

1/4

cup

tomato sauce or 2 Tbs tomato paste

1/2

pound

pasta

1/2

cup

grated Parmesan
Instructions
Bread Crumbs
Heat a tablespoon of oil in a small skillet, then add the bread crumbs, stirring so they all get some oil. Stir in the oregano. Cook until crisp, take off the heat and stir in the parsley. Set aside.
Beet Greens and Pasta
Heat a large pot of salted water and cook the pasta according to package directions.

In a large skillet, heat 1 Tbs of oil, then add the garlic slices and cook just a minute or two, stirring.

Add the beet stems and a ladle of pasta water and let them simmer a few minutes, then add the leafy parts, along with the red pepper flakes, and a pinch of salt. Cover the skillet and cook a few minutes, until everything is softened.

Uncover the skillet and add the tomato sauce. (If you're using tomato paste, mix it with some hot pasta water in a small bowl before adding it to the beet greens.)

When the pasta is done, lift it from the pasta water with a spider or tongs, depending on what kind of pasta you chose, and add to the beet greens. Mix everything together.

Add the cheese and bread crumbs and a drizzle of olive oil and serve with more cheese on the table.