This Pork Curry with Potato, Pepper and Apple satisfied my need for a warm dish on a cold night. Cooking for one has its challenges–especially if you like to cook! I never want to make anything that has too many leftovers. I like them once for lunch but then I want to cook something new the next night for dinner. I don't mind cooking the same thing in two different ways, which is what I did this week, though. I thawed a couple of pork chops and cooked them two different ways on two different nights–and had a bit leftover from each for lunches.
First I made a recipe my youngest shared with me, a pan-fried pork chop with a vibrant green sauce that was similar to this Italian salsa verde. It had some cooked tomatoes with it and I served it with the poached zucchini I wrote up earlier. It was quite a tasty dinner!
Last night I felt like making something completely different and settled on a pork curry. I found this recipe in 660 Curries (Amazon affiliate link), which seems to have curries made with just about anything you could want. I was drawn to it because it didn't have any sub recipes and I had almost all the ingredients, substituting green cardamom seeds for black. I halved this recipe and used one pork chop, which gave me a nice balance of vegetables (and fruit) to pork. Taking his suggestion, I served it with a toasted half a ciabatta instead of rice. Potatoes and rice would have been too heavy for me.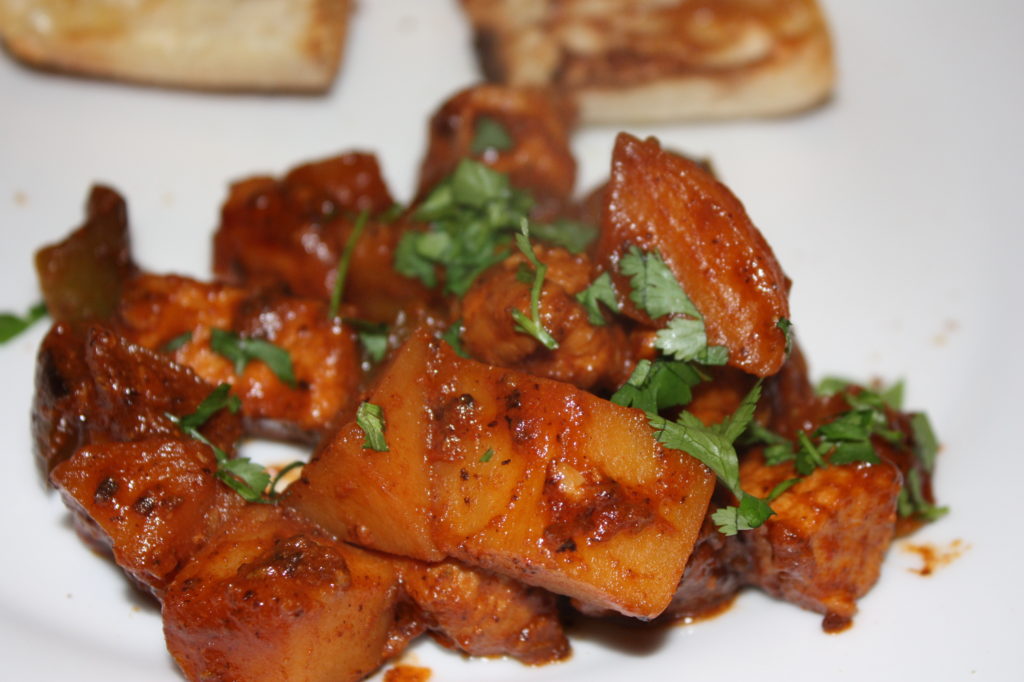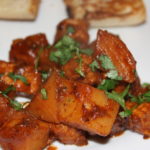 Print Recipe
Pork Curry with Potatoes, Peppers and Apples
Ingredients
1

medium potato, peeled and cut in 1″ cubes ansd soaked in cold water

1/2

teaspoon

fennel seeds

1/2

teaspoon

dill seeds

1/2

teaspoon

cumin seeds

seeds from a black cardommon pod

I used green

1

large pork chop, cut in 1″ cubes

2

Tablespoons

plain yogurt

1/2

teaspoon

kosher salt

1/2

teaspoon

ground ginger

1/4

teaspoon

cayenne

3/4

teaspoon

paprika

3

large cloves of garlic, minced

1

Tablespoon

canola oil

1/2

green bell pepper, cut in 1″ chunks

1

Tablespoon

tomato paste

1/2

cup

water

1/2

an apple, cut in 1″ chunks

1

Tablespoon

chopped cilantro leaves
Instructions
Soak the potato cubes in cold water while you prep everything else.

Grind the fennel, dill, cumin and cardommon seeds together in a mortar and pestle.

In a medium sized bowl, combine the ground seeds, with the pork, yogurt, salt, cayenne, paprika and garlic. Drain the potato cubes and pat dry with a paper towel, then add them and the pork cubes to the spice mixture and stir to coat. Refrigerate for at least 30 minutes to let the flavors penetrate. (You can also do this the night before and marinate the pork overnight.)

Heat the oli in a skillet over medium high heat and stir-fry the green pepper cubes until they blister, about 5 minutes.

Add the pork and potato mixture to the skillet and use a spatula to scrape out any marinade sticking the bowl. Cook, stirring now and then, about 8 minutes until the potatoes and pork are seared a bit.

Stir in the tomato paste and water and scrape the bottom of the pan while stirring to get up any browned bits.

Stir in the apples and bring to a boil. Reduce the heat and cover. Simmer, covered, until the meat and potatoes are tender when you poke them with a fork, about 25 minutes.

Stir in the cilantro and serve.
This has a mild kick to it from the cayenne but it is not too spicy.