Watch out! I got a digital camera today. First picture had to be of the garden tomatoes.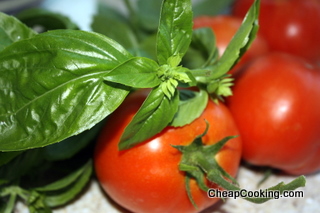 When I first started cooking I wanted exact measurements for everything. Even salsa. But now, I realize that you use what you have, you vary it depending on what you're doing and whom you are serving–and maybe you just feel like something a bit different one day so you change it! Here's my best guess on my current basic salsa. I always taste and adjust if needed.
Tomato Salsa or Pico del Gallo
This is the most basic salsa that I make all summer long when tomatoes are in season.
Ingredients
1 1/2

cups

chopped tomatoes

1/4

cup

chopped white onion

2

cloves

garlic, minced

1/4

cup

chopped fresh cilantro

1/2

a jalapeno, seeded and minced

or more to taste

1

teaspoon

lime juice

optional

salt to taste
Instructions
Mix everything together and taste. Adjust as needed.
If you want add:
lemon juice instead of lime, although I really prefer lime
1/4 cup chopped cucumber for extra crunch if you like
more garlic or onion or cilantro, depending on which way you lean
This goes great with Cold Avocado Soup, chips, burritos, scrambled eggs…