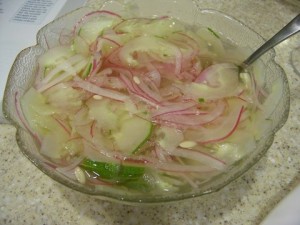 I like cucumbers and find that a just a few plants climbing up a cage can keep us well supplied in cucumbers for the summer. I'm growing a different variety than last year and they are much better, fewer seeds and not all prickly on the outside. The girls like them just plain, sliced in circles on a plate. I like to dress them up a bit.
Last night I made one with red onions that pretty much follows the recipe in The Everything Thai Cookbook: From Pad Thai to Lemongrass Chicken Skewers, except I left out the 2 Thai chilies, seeded and minced so add those in if you want it spicy! I saw a very similar recipe in a magazine recently that had thinly sliced radishes in it, which also sounds good. I also added some bean sprouts to a cucumber salad once and loved the double crunchiness.
Sweet and Sour Cucumber Salad Recipe
This Thai inspired cucumber salad goes great with a curry.
Ingredients
1

cup

boiling water

5

Tbs

sugar

1

tsp

salt

1/2

cup

rice vinegar

2 -3

small cucumbers, seeded and sliced

2

small chilis, diced

seeds removed if you'd like less heat

1

small red onion, sliced
Instructions
Mix together the hot water, sugar, salt and vinegar, then let cool to room temperature so you don't cook the cucumbers!

If you don't have rice vinegar, you can use white vinegar.
Last night I actually got out the mandoline to make the slices really thin just for fun but you can just slice the cucumber in half lengthwise, use a small teaspoon to scrape out the seeds, then slice into half moons.
I served this with some excellent curry, similar to this Thai red chicken curry. I used a mix of peppers, bamboo shoots and peas for the vegetables.
I grew up with my mom making a quick pickled cucumber salad, similar to this quick cucumber salad recipe (and my mom's old recipe is on that page as well.) I've also played around with cucumbers and sour cream. And then there's this one with an Asian flare to it.