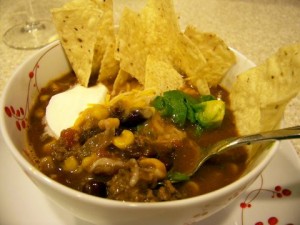 Just me for dinner tonight and it's cold out!  I was thinking about making Coconut Rice Noodles and Chicken Soup or this very good Thai Noodle Soup but then remembered I had a dinner size portion of taco soup left in the freezer.
I find it easy to stick stuff INTO the freezer sometimes and harder to remember to use it up, so since it's just me tonight this is perfect!
And this time I have some tortilla chips to go with it!  I also have a bit of avocado left so am adding that once the soup warms up. If avocado goes great with chicken tortilla soup, I'm thinking it will add a nice cool bit to taco soup too.