Thanksgiving is done. You've made turkey broth, right?  Or maybe you'll get to that today. (You can always do it in the crockpot overnight.)
And you've got leftover turkey for all kinds of good things turkey sandwiches, turkey enchiladas and turkey shepherd's pie. And you can make an easy turkey soup with whatever Thanksgiving leftovers you have around.
But you should also try this turkey, corn and potato chowder. I got the recipe from Diana Henry's A Bird in the Hand (Amazon link), which is full of chicken recipes. But this is great made with turkey!  She calls for creme fraiche; I just used sour cream. The avocado and lime salsa that you put on the top adds a great splash of flavor and color. And don't let the lack of a leek make you skip this. Just make it without.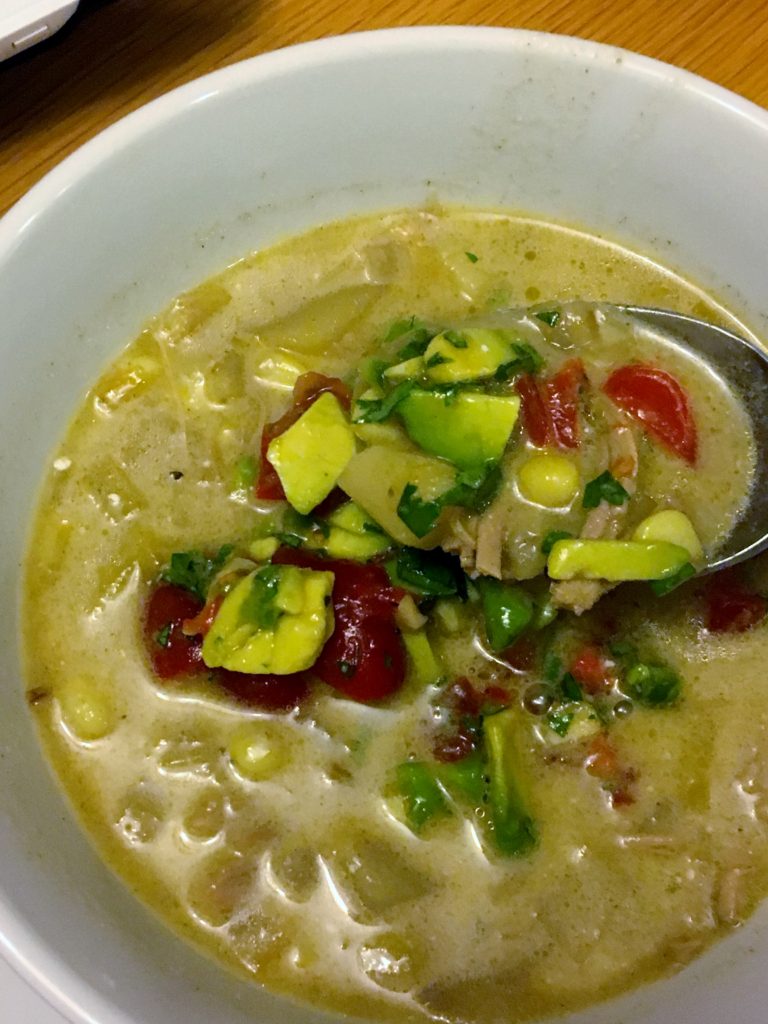 Turkey, Corn and Potato Chowder with Avocado Lime Salsa
This is a tasty meal in a bowl. You can easily use more or less leftover turkey (or chicken) and broth.
Ingredients
Avocado Lime Salsa
1/2

pound

tomatoes, diced

2

green onions, minced

2-3

red chiles, seeded and minced

2

avocados, chopped

1 1/2

tsp

ground cumin

juice of half a lime

handful of chopped cilantro

1/4

cup

olive oil

pinch of salt
Chowder
1

Tbs

oil

2

tsp

butter

1

onion, chopped

1

leek, chopped

1

Tbs

ground cumin

2

tsp

ground coriander

2

cups

peeled and chopped potatoes

salt and pepper to taste

1

quart

turkey (or chicken) broth

1/3

cup

sour cream (or creme fraiche)

1

cup

corn kernels

4-5

oz

cooked chicken, torn into pieces or chopped
Instructions
Salsa
Mix everything together. You can make this an hour or two ahead or while the chowder is cooking.
Chowder
Heat the oil and butter in a large saucepan and saute the onion and leek for a couple of minutes. Stir in the spices, then add the chopped potatoes and stir so the oil and butter is all over the potatoes. Reduce the heat and cook, covered, for 20 minutes or so. Check the vegetables now and then and add some water if it's dry.

Add the chicken stock, salt and pepper, and cook another 10 minutes or so.

Stir in the sour cream, corn kernels and cooked chicken. Heat through and taste. Depending on your stock, you may want more salt and pepper. If it seems to thick for your taste, add more broth or water.

Serve the soup with a spoonful of salsa on top.