My new bread machine, which I wrote about here, was in use twice today! I made homemade hamburger buns and a plain white loaf of bread.  First, I just needed some regular bread for breakfasts and lunches tomorrow. This was a plain white loaf, with honey as the sweetener.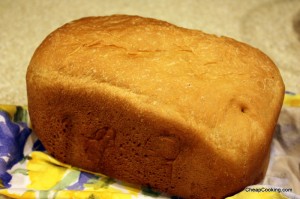 After that was baked (about 3 hours start to finish), I used the dough setting to make the hamburger buns.  This recipe is from The Bread Lover's Bread Machine Cookbook: A Master Baker's 300 Favorite Recipes for Perfect-Every-Time Bread-From Every Kind of Machine
, where I've gotten lots of good recipes.  The first time I made these I used the smaller 1.5 pounds recipe but now I just make the full 2 pound recipe and freeze any leftovers. I keep hoping one day I'll have hamburgers without making the buns but the buns are so good, we keep eating them up, either plain or for sandwiches.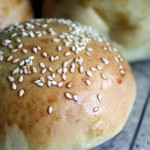 Print Recipe
Homemade Hamburger Buns
Ingredients
1 1/4

cups

water

1

large egg

6

Tbs

butter at room temperature

cut into chunks

3

Tbs

sugar

4

cups

bread flour

1/3

cup

nonfat dry milk

3

Tbs

instant potato flakes

1

Tbs

plus 1 tsp gluten

2

tsp

salt

2

tsp

SAF yeast

1

egg yolk beaten with 1 Tbs water for glaze

1 1/2

Tbs

sesame seeds for topping
Instructions
Add all the ingredients (except the egg yolk and sesame seeds) to your bread machine in the order your machine prefers.

When the dough is done, turn onto a lightly floured surface and cut into 12 equal pieces. I find it easy to roll it into a log and cut it in half, then roll each into a longer log again and cut in half, etc.

Put parchment paper onto two large baking sheets.

Roll each piece into a ball and then flatten with your hand. Or I took each piece up into my hands and tucked the bottoms in under as I turned the dough around to create a nice smooth bun, then flattened with my hand. However you shape them, lay them on the parchment paper about 1″ from each other.

If you want hot dog buns, roll each piece into a 6″ long oval, then roll up tightly. Use the palms of your hand to slightly flatten each roll.

Cover the rolls with a towel or plastic wrap and let sit for 30 minutes.

Preheat the oven to 375F. Brush the rolls with the egg yolk and water mix, then sprinkle on sesame seeds if you'd like.

Bake 15-22 minutes, until lightly browned. Remove and let cool on a wire rack.
I've played with this recipe before. First, I had no potato flakes and no extra eggs so just made it without the potato flakes and skipped the egg wash. Then I had potato flakes and nonfat dry milk but still no extra egg. Tonight I had no instant dry milk, but had potato flakes AND egg!  I think the egg wash adds a lot and I like the sesame seeds but don't be afraid to make these if you're missing one of those ingredients like I was. All three times it came out fabulous, although I think tonight was the best ever with the egg wash.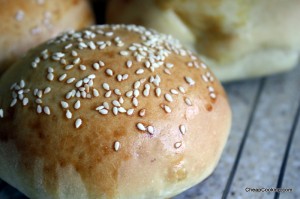 The burger mix was my usual mix of Jamie Oliver and my mom!
Jamie Oliver's Hamburgers
Ingredients
1

pound

ground beef

1

egg

3/4

cup

bread crumbs or a dozen small crackers, crushed

1

Tbs

Worcestershire

1

Tbs

Dijon mustard

1

Tbs

dried parsley or 1/4 cup fresh chopped parsley

salt and pepper to taste
Instructions
Mix everything up well and shape into 6 patties. Refrigerate on waxed paper for half an hour or longer. Grill until done to your liking.
These are not HUGE patties obviously with 6 from a pound but they suit us just fine, especially when topped with sliced tomato, lettuce, pickles, cheese, etc.  Tonight we grilled some thick slices of red onion to go on top. Mmmmm.
Oh, the corn. I microwaved it in the husk for about 2 minutes per ear, shucked the ears, then grilled just a few minutes.
Save