I wanted to make an apple pie tonight but didn't feel like anything as heavy as two crusts. Yet, I didn't want to just make a crisp or cobbler either. I thumbed through a few apple pie recipes, having some vague memory of a one crust pie I'd seen with some sort of custard. I saw one for a ricotta apple pie, but opted for an apple custard pie I saw in Better Homes & Garden New Cookbook
, one of my old standbys.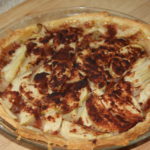 Print Recipe
Apple Custard Pie
This single crusted apple pie has a light custard that binds the apples together.
Ingredients
Pie Crust
1 1/2

cups

flour

1/2

tsp

salt

1/2

cup

shortening

4-5

Tbs

cold water
Pie Filling
6-8

tart apples

peeled and sliced

3/4

cup

sugar

3

Tablespoons

flour

1/2

teaspoon

salt

1/4

cup

light cream or half and half

cinnamon
Instructions
Pie Crust
Mix the flour and salt together, then cut in the shortening. You can do this in the food processor or a stand mixer or by hand. Add the cold water and mix just until it has blended in.

Roll out the pie crust and lay it in a 9″ pie pan.

Trim any overhang. Create a pretty border by pinching the edge between your thumb and finger all the way around if you'd like.
Pie
Preheat the oven to 375F.

Peel, core and thinly slice the apples, adding to the pie dough until the apples are nicely mounded. (They'll shrink down as they cook.)

In a small bowl, combine the sugar, flour and salt and mix well, then stir in the cream. Pour this over the apples.

Sprinkle the apples with ground cinnamon.

Cover the pie loosely with foil and bake for 1 hour.

Take the foil off and bake another 15 minutes, until the apples are done. (Test this with a paring knife. It should go in easily.)
This was really good. The custard-like stuff with the apples is fairly light, certainly lighter than a second crust would be. Definitely a repeat!