I don't normally buy canned crab but had two small cans in the pantry I purchased with some recipe in mind that I never made. I saw them when I reorganized the pantry last weekend and decided to use them up with some crab cakes. I've made crab cakes with fresh crab before but not canned. Rather than follow my earlier recipe I decided to use Mark Bittman's from How to Cook Everything. I have the older edition and just love it.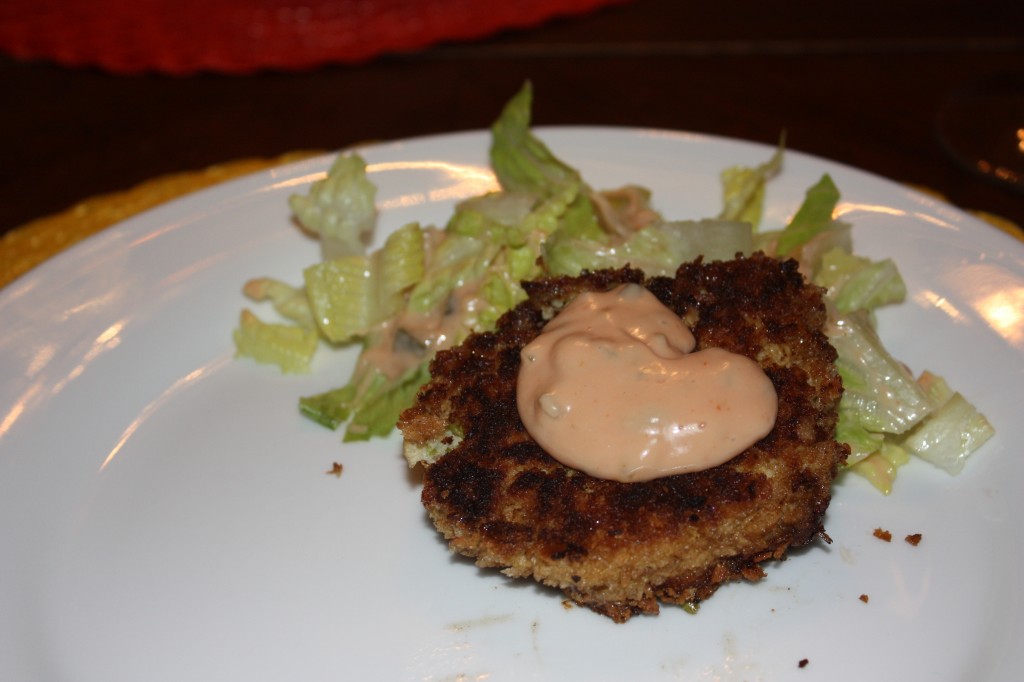 I definitely prefer them made with fresh crab but these were an easy pantry meal and went well with some homemade thousand island dressing, which I cribbed together based on a thread on Chowhound, which a great board to go to for ideas like that.
Crab Cakes from Canned Crab
While not as good as when made from fresh crab, these canned crab cakes made a nice dinner with a simple salad.
Ingredients
2 6-

oz

cans of crab meat

1

egg

1/2

cup

minced green onions

1/4

cup

mayonnaise

1

Tablespoon

Dijon mustard

salt and pepper to taste

2

Tablespoons

bread crumbs or more as needed

1

cup

flour or more bread crumbs for dredging

2

Tablespoons

oil

2

Tablespoons

butter
Instructions
Drain the crab and put in a bowl. Add the egg, green onions, mayonnaise, mustard, salt, pepper and breadcrumbs. Mix this altogether and see if you can shape it into patties. If it doesn't hold together, add more breadcrumbs. Use just barely enough. You don't want the mixture filled with bread.

If you can, refrigerate the mixture at least half an hour so the patties will hold their shape better.

Put the flour or breadcrumbs. in a pie tin or flat plate and season it with salt and pepper.

Preheat a large skillet and add the oil and butter, swirling to cover the bottom of the pan.

Shape the crab mixture into four patties, dredge in the flour or breadcrumbs, and place them in the pan.

Cook, turning once, about ten minutes, until golden brown.

Serve with lemon wedges and/or thousand island dressing.