I've made these Crispy-Coated Sweet Potato Wedges from
Cravings: Hungry for More by Chrissy Teigen (Amazon link) three times so far and I know I'll be making them again. They're coated with egg white, which is mixed with rice flour (or cornstarch or potato starch) and Lawry's Seasoned Salt, which I haven't used in ages. Growing up we would put that on popcorn but I don't think I've ever cooked with it other than that, although now I'm wondering why.
They go together in about 10 minutes, during which time you preheat a pan with a bit of oil on it. They take about 30 minutes to bake. You just have to flip them over once about halfway through.
Once I forgot to preheat the pan and the flavor was still good, but I missed the crispy texture.
I remember using egg whites in a recipe for baked French fried potatoes, from a long-ago diet book with Oprah Winfrey's name on it. Aha, it was from In the Kitchen with Rosie, from 1994. Thank you Amazon. Adding the rice flour to the egg whites really ups the game on the texture.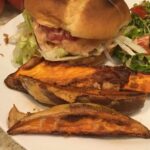 Print Recipe
Crispy Sweet Potato Wedges
Ingredients
2

Tbs

olive oil

2

egg whites

2

Tbs

rice flour

or cornstarch or potato starch

2

tsp

Lawry's seasoned salt

1 1/2

pounds

sweet potatoes, scrubbed, skin on, cut into 1″ wide wedges
Instructions
Preheat the oven to 425. Put the oil on a rimmed baking sheet that's large enough to hold the sweet potatoes in a single layer. Preheat the pan in the oven about 7-8 minutes, until hot but not smoking.

Whisk the egg whites until stiff. By hand that takes about 4 minutes. If you want to use an electric mixer, allow about 2 minutes.

Stir in the rice flour and seasoned salt, then add the sweet potato wedges and stir gently until coated.

Take the pan out of the oven and put the sweet potatoes on it, turning until each one has a cut side down in contact with the oil. Bake 15 minutes or so, until the sides in contact with the pan are crispy.

Take the pan out of the oven and turn all the wedges until the other cut side is down and bake another 10-15 minutes. Sprinkle more seasoned salt on to taste and serve.