It's time again for Is My Blog Burning. The theme this time is beans, one of my favorite "CheapCooking" foods! These easy pinto beans are on regular rotation around here. We like other beans as well. I've made Black Bean Soup, Black Bean Mole, Bean and Corn Melange, a white bean and spinach side dish, split pea soup, my favorite Coconut Rice and Red Beans, and even just dressed up some canned beans periodically.
Unfortunately, I'd neglected to note down the IMBB date and only found out about it this morning when I was catching up on my blog reading (as opposed to blog writing). So, it's almost noon and I'm supposed to cook beans! I had read, in Feed Your Family on $10 a Day by Linda Eckhardt, that you can get away with not soaking the beans. I'd done the quick soak method before. (Bring the beans and water to boil, simmer a few minutes, then turn off the heat, cover, and let sit for an hour.) I'd made this recipe before, but decided it was perfect for today's IMMB.
Easy Pinto Beans
Here's a delicious easy way to cook up a pound of pinto beans to serve as is or make into refried beans.
Ingredients
1

pound

pinto beans

water

1/4

pound

of salt pork or a few slices of bacon

1

onion

1

tablespoon

chili powder
Instructions
Rinse and sort the beans. I repeat this although I've long ago given up the sorting part as I've never yet found any rocks or non-bean material. I do rinse them however.

Cover with 2 inches of water.

Add a couple of inches of salt pork. (Note: I buy a hunk of this periodically and freeze whatever I have left after slicing up in pieces.) Peel and quarter an onion and add that. Add the chili powder.

Bring to a boil, then reduce to a simmer. Cook for a few hours, until the beans are soft. Add more water periodically if you need to.

Serve these as a soup or just cooked beans as a side dish, as is, or make refried beans from them.
How to Make Refried Beans
If you don't want a soup, you can make these into refried beans in just a few minutes.
3 cups cooked pinto beans
2 Tbs bacon grease
Heat up the bacon grease in a frying pan and add a few cups of cooked pinto beans. Mash and cook, until somewhat dried and they have the consistency you like.
Chalupas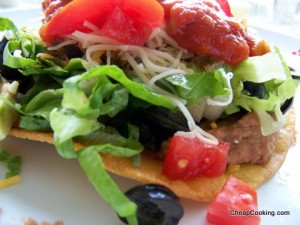 To make these into the basis for a meal, fry up some tortillas, leaving them flat. Drain on paper towels.
Chop up some lettuce, shred some cheese, make or open some salsa, slice up some avocados, and pile them all on the crispy tortillas.
Save