These provolone turnovers from Lidia Cooks from the Heart of Italy: A Feast of 175 Regional Recipes made a fantastic dessert, drizzled with a bit of honey I picked up at the farmer's market. (And I swear it tastes way better than stuff from the grocer's.)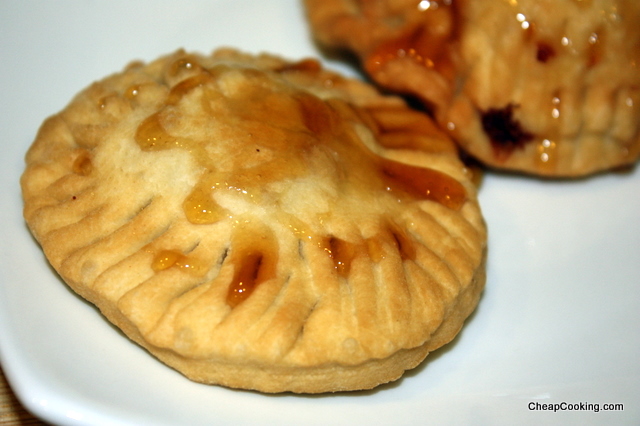 I've been watching her shows on television and this was one of the dishes I saw Lidia make. I'm not big on cooking shows, frankly, but this was very useful to watch. Mainly to see how she outlined the round cookie cutter shapes on the bottom dough (but did not cut through), put the cheese pieces on top, then laid another piece of dough on top and cut through both layers at once. I've tried to show you this in the pictures below.
Provolone Turnovers aka Pardulas
Serve these for dessert or as an appetizer. You can make and fill them in advance, then just fry them when your guests arrive.
Ingredients
1 1/2

cups

flour

1/4

tsp

salt

1

Tbs

olive oil

1 1/2

Tbs

butter at room temperature, cut into chunks

1/2

cup

minus 1 Tbs water

4-5

ounces

provolone cheese, sliced

oil for frying

honey for drizzling
Instructions
Put the four, salt, olive oil and butter in the bowl of your food processor and run a minute or so until well combined. (She calls it a sandy texture.) With the food processor running, add the water and process until a dough forms. If it's sticky, add some flour. If it's dry, add some water. Turn the dough onto a lightly floured surface and knead a few times, then cover with a towel and let rest half an hour or so.

Cut the dough in half after it has rested and roll out half on a lightly floured surface into a rectangle about 1/4″ thick. Lightly score the dough with a round cookie cutter or biscuit cutter, 3″ in diameter or smaller if you want appetizer sized portions. Place pieces of provolone cheese inside each scored circle.

Roll out the other half of the dough, then drape over the first piece. You can do this in batches if necessary. That is, if the second piece is shaped exactly as the first piece, don't worry. Just cover what you can, cut through BOTH pieces of dough for those covered, then reroll out the rest of the dough and finish up. I also took the leftover dough, of course, and divided IT in half and made a few more pieces. I ended up with a dozen pardulas, just hand-shaping the last bit of dough into a half moon.

Pinch the edges together with your fingers, then use a fork to press the edges together, crimping them.

Pour vegetable oil to a depth of about 1/2″ inch in a skillet and turn the heat to medium. Test the temperature by dropping just a bit of dough into it. It should sizzle–without burning!

Slide a few pardulas at a time into the skillet. Don't crowd them. Cook 2-3 minutes per side, then drain on paper towels.

Serve immediately, drizzled with honey if desired. Mmmm!
I halved her recipe and served these, a bit smaller than hers, for dessert rather than as the appetizer she suggests. She says you can make and fill them in advance, then just fry them when your guests arrive.
Save