With fresh peaches from the farmer's market and lavender from my yard, this roast chicken from Diana Henry's A Bird in the Hand: Chicken recipes for every day and every mood was fantastic! I don't often think to cook fruit with meat but this dish will definitely be repeated. The chicken was moist and flavorful and the peaches were delicious, even left over the next day. This would be good for entertaining, as it's a bit different and doesn't require a lot of last minute attention. Once you've browned the chicken and taken care of the sauce, it bakes for 40 minutes while you can visit with your friends or family.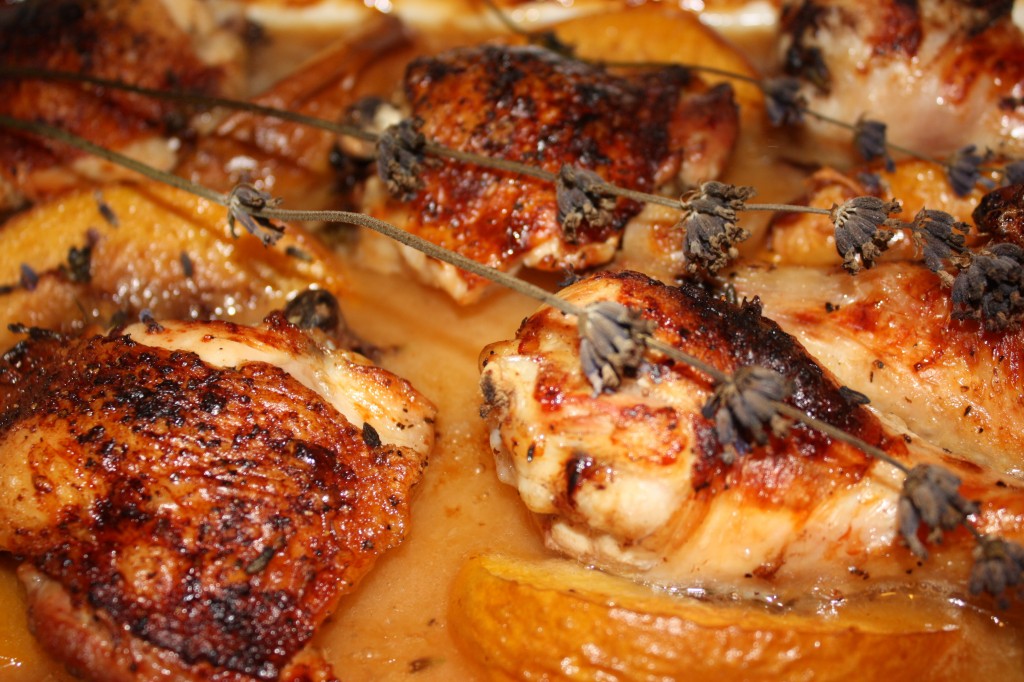 Roast Chicken with Peaches, Honey and Lavender
Chicken and peaches are sweetened by honey and lavender then baked until done.
Ingredients
3

Tablespoons

olive oil, divided

about 4 pounds of bone-in chicken pieces

3/4

cup

white wine

3

Tablespoons

white balsamic vinegar, divided

1/4

cup

lavender honey

or regular honey, divided

5

small slightly under-ripe peaches

8

sprigs of fresh lavender
Instructions
Preheat the oven to 375F.

Heat a tablespoon of oil in a skillet while seasoning the chicken pieces with salt and pepper. Brown the chicken well on each side, then remove to a baking dish that will hold the chicken and peaches snugly in a single layer.

Pour the excess oil off but don't wipe the pan out. Pour the wine in and stir to get up any stuck bits. Let this simmer while you stir until the wine is reduced to about 1/2 cup. Turn the heat off and stir in 1 1/2 Tablespoons each of honey and vinegar, then pour this over the chicken.

Cut the peaches in half and remove the pit, then cut each half in half again. I had one huge peach so cut it in eighths. Put the peach pieces in between chicken pieces, salt and pepper them and brush each slice of peach with some olive oil.

Mix together the remaining balsamic vinegar (1 1/2 Tablespoons) and honey (2 1/2 Tablespoons), then drizzle this over the peaches and chicken.

Take the flowers off some of the lavender and sprinkle around. Lay the rest of the lavender sprigs on top of the chicken. (If you've used lavender honey, don't go too heavy on the lavender. )

Bake until the chicken is done, about 40 minutes.
This is what it looks like as it goes into the oven. Isn't it beautiful?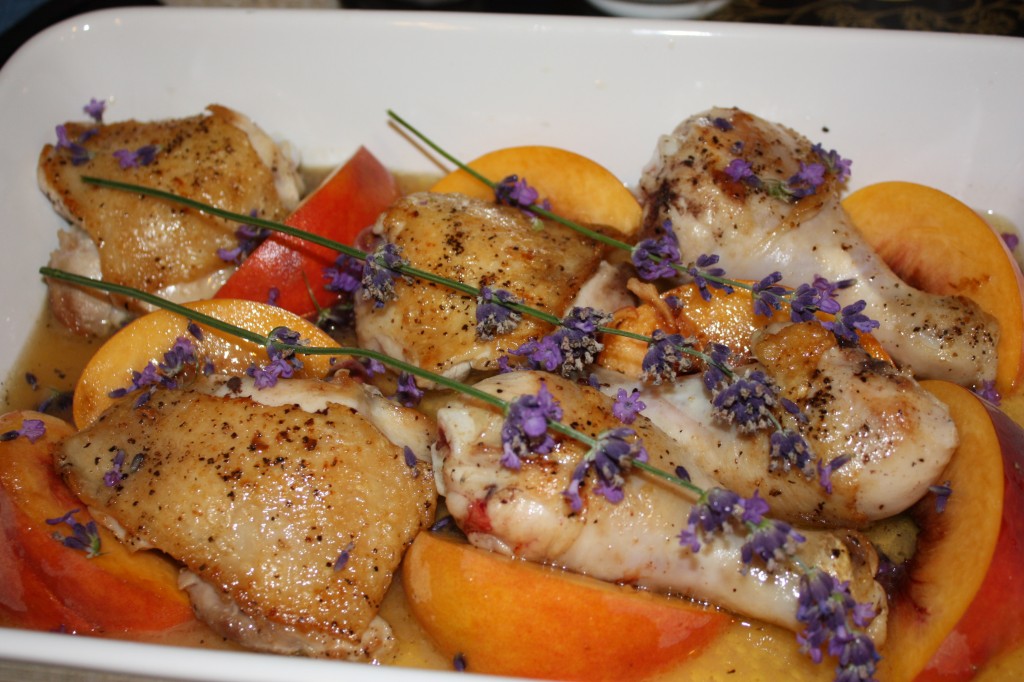 I highly recommend this book. Every recipe has been super!