It wouldn't be a summer holiday around here without barbecued ribs and that's what I made for Memorial Day dinner.  We had strange weather here, with it actually raining early on, which is very unusual. We don't usually get rain between late April and September or October. The garden was happy anyway! I call these Slow Cooked Barbecued Ribs but they are not done in a slow cooker! They are grilled over low heat for several hours, until the meat is practically falling off.
I used to parboil ribs and then just grill the last little bit but the last few years I've settled on these slow grilled ribs from How to Cook Everything by Mark Bittman (affiliate link) . Sometimes I use his spice rub on them and sometimes I use other rubs that are good on pork. This Memorial Day I went back to his rub, which is easy and good, although I think next time I will use brown sugar instead of white sugar in it.
These take a few hours but usually turn out very moist with a nice well-cooked crispy outside. They go great with cornbread. We always serve them with this homemade barbecue sauce.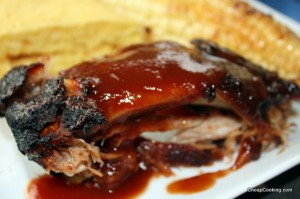 Note that 1 1/2 teaspoons is half a tablespoon so if you just want to eyeball half a tablespoon you'll only need to dirty one spoon. 🙂
Slow Cooked Barbecued Ribs
Ingredients
1

tablespoon

sugar

1

tablespoon

paprika

1 1/2

teaspoons

salt

1 1/2

teaspoons

ground cumin

1 1/2

teaspoons

black pepper

1 1/2

teaspoons

chili powder

about 4 pounds spareribs or baby back ribs
Instructions
Light just one or two burners on your gas grill so you can cook the ribs over indirect heat. You want a temperature of about 300F. (If you use a charcoal grill, after lighting the briquettes, move them to one side of the grill and keep the fire as low as possible. You'll probably need to add more briquettes every hour.)

Mix all the dry ingredients together, then rub on the ribs.

Put the ribs on the grill where they are not over direct heat.

Turn the ribs every half hour or so. Cook for 3 hours or longer… Make sure the heat is low if you cook longer.

Just before serving move the ribs over the heat and brown on each side just a few minutes.

Serve with your favorite barbecue sauce.
Save