This is the fourth zucchini casserole recipe I've posted. This is a very simple one, more egg than custard like some of the others. I like squash casseroles because you can leave them plain or dress them up–and they're good either way. I made this one with all zucchini because that's what I'm growing in the garden but I'd happily make it with half yellow squash or even all yellow squash if that's what I had around.  Sometimes I add pimientos to the casserole but this time I had a half a can of diced green chilis in the fridge so I added those. This isn't as rich as the Tex-Mex Squash Casserole I made several times last year. And it goes together quite a bit quicker.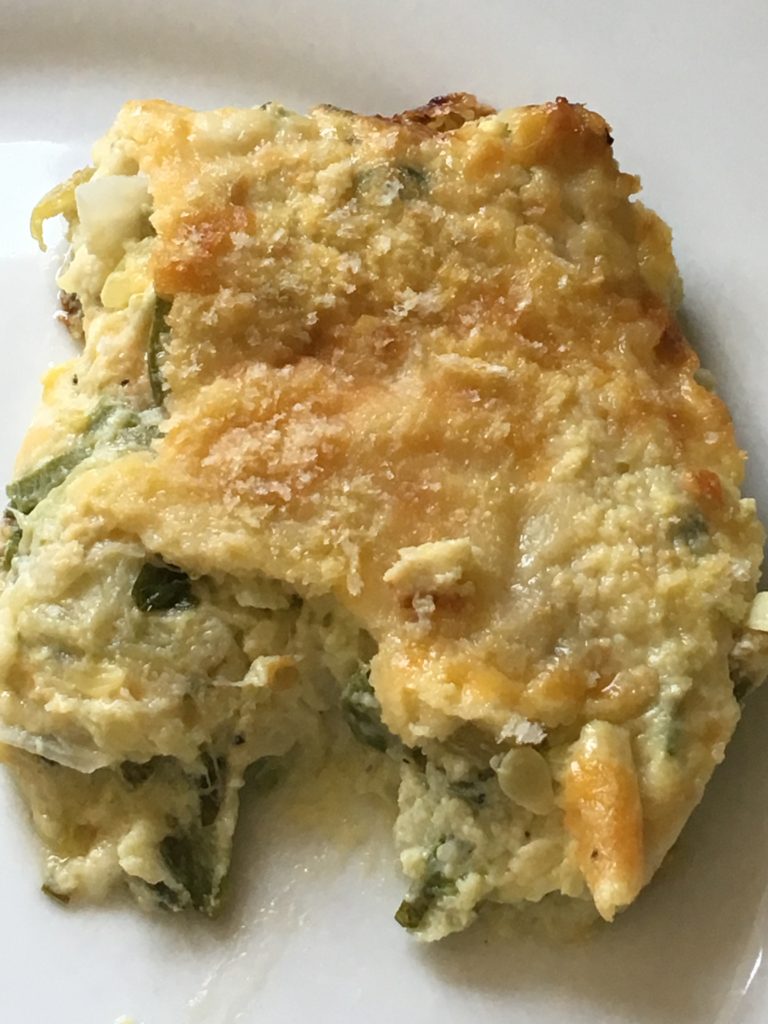 You can steam the zucchini or just slice it and cook it in a small amount of water, just covering the slices.  Drain it really well or the casserole can get a big soggy.
Zucchini Casserole with Green Chilis
Ingredients
6

medium zucchini, sliced

1

onion, chopped

2

Tablespoons

butter

1/4

cup

milk or cream

2

eggs, beaten together

salt and black pepper to taste

3

Tablespoons

minced fresh parsley

3

Tablespoons

diced canned green chiles

3/4

cup

grated cheese

1/2

cup

bread crumbs
Instructions
Preheat the oven to 375 and butter a 1-quart baking dish

Cook the zucchini and onion in a small bit of water until soft, then drain well. Use a potato masher to mash them up.

Mix the eggs and milk or cream together in a small bowl.

Stir in the butter and let it melt. Stir in salt, pepper, parsley, green chiles, 1/2 cup of grated cheese and 1/4 cup of the bread crumbs. By now the squash should be cooled a bit so stir in the beaten egg and milk and mix well.

Pour the zucchini mixture into the buttered dish, Mix together the remaining 1/4 cup cheese and 1/4 cup bread crumbs and sprinkle on the top of the casserole.

Bake uncovered for 30 minutes or so.