Frittatas can be made with nearly anything you have around or nearly nothing, as long as you have some eggs and a vegetable of some kind. Last night I saw the idea of adding stale bread to the egg mixture in Lidia's Italy in America in her recipe for sausage, bread and pepper frittata. She also had a recipe for a frittata with onion, tomato and spoonfuls of ricotta on top. I took a bit of each from those two recipes for the bread, pepper and ricotta frittata I made last night. Her recipes call for 8 eggs but I made mine thinner, with just 6 eggs since I was only feeding two with some planned leftovers. You can see her recipe here.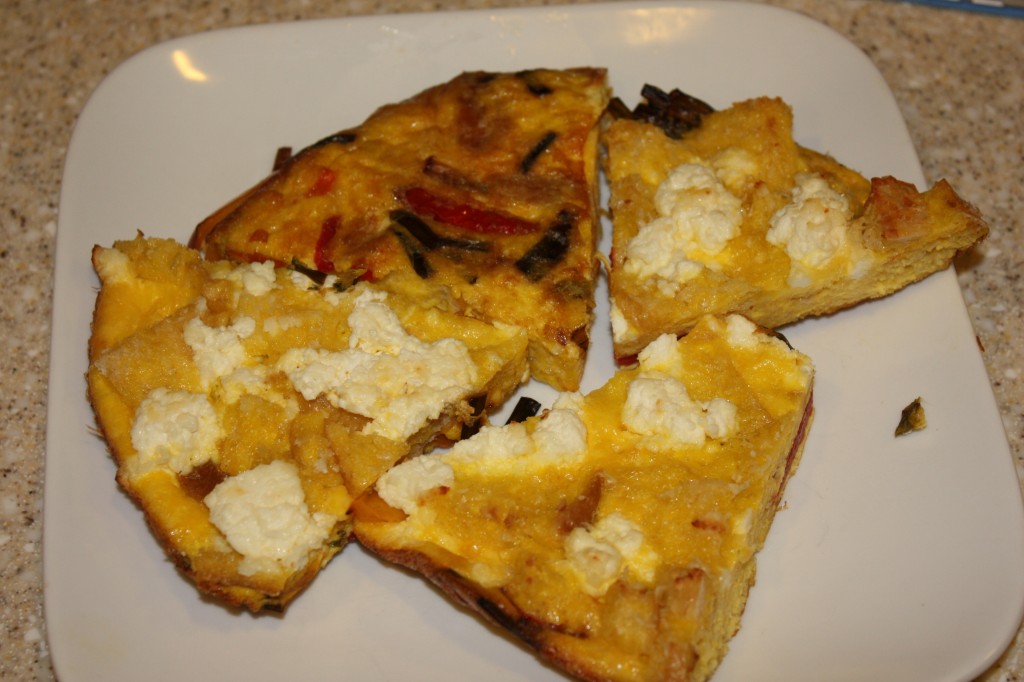 You can serve these warm or at room temperature.
Save
Bread, Pepper and Ricotta Frittata
Frittatas are an easy skillet meal, where the eggs start to cook on the stove and finish in the oven. You can use a variety of vegetables or sausage in them.
Ingredients
2

tablespoons

oil

1/4

cup

chopped green onions

1

pepper cut in 1/2″ strips

or a mix of peppers for more color

2

slices

stale bread, cut in 1/2″ cubes

6

eggs

1/4

cup

milk

pinch

of salt

6

spoonfuls of riccota

1/4

cup

grated Parmesan
Instructions
Heat the oven to 375 F.

Heat the oil in an ovenproof 10″ skillet and cook the scallions and peppers, salting them lightly. Cook about 8-10 minutes, stirring, until softened.

While the vegetables are cooking, mix the eggs, milk and a pinch of salt together in a bowl. Add the bread cubes and soak them while the vegetables are cooking.

Lower the heat and pour in the egg, milk and bread mixture. Let cook 2-3 minutes without stirring.

Plop the spoofuls of ricotta around the top, then sprinkle the Parmesan cheese over it all.

Put the frittata in the oven and cook until done, about 15 minutes.

Take it out of the oven and let it rest a few minutes, then slide it out of the pan and cut into wedges.