On a riff from a bulk sausage and red potato dish with rosemary and garlic in Desperation Dinners, I made this dish tonight with some cubed Yukon Gold potatoes from the farmer's market. My daughter walked into the kitchen as I was figuring out dinner. I knew dinner would have 1/2 a pound of the bulk sausage (I was saving the other half for breakfasts). I was debating about potatoes or rice, tomatoes nor not, etc.
She doesn't care for rosemary too much, but likes garlic and pepper. And lately onions. So we added onions, subtracted rosemary, added more garlic. I debated about the canned tomatoes and decided to go with them, as per the original recipe. We actually ended up adding ketchup to this at the table and then we both loved it. Prior to the ketchup, it was good. With the ketchup it was grand.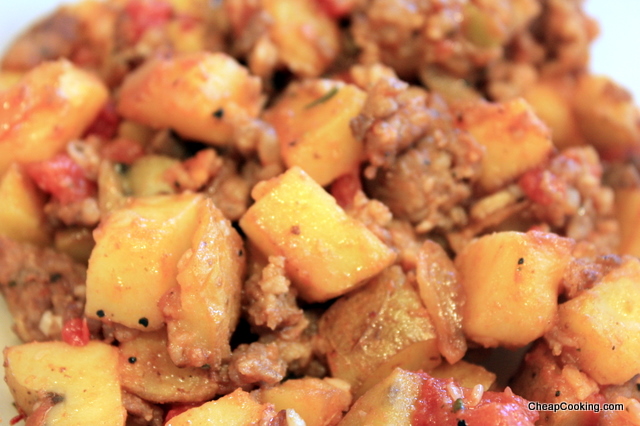 Cook the cubed potatoes and onions in a bit of oil until the potatoes start to brown, then add the sausage and cook, stirring to break up the meat.  Cook the sausage through and finish the potatoes, about 10 more minutes.  The canned tomatoes add a nice flavor but they do soften the potatoes so you could leave them out if you wanted crispier potatoes. We added half a can, garlic, garlic salt and pepper.
Bulk Sausage Skillet Dinner
Ingredients
1

Tbs

olive oil

1/2

an onion

about 1/4 cup diced

2

cups

diced potatoes

I used Yukon gold

1/2

pound

bulk sausage

I used Johnson's

1

Tbs

minced garlic

however many cloves that takes

garlic salt and pepper to taste

1

tsp

sugar

1/2

can of diced tomatoes
Instructions
Heat the olive oil and add the diced potatoes and onions, stirring to coat. Cook until lightly browned, stirring periodically.

Add the sausage and stir to break up. Cook until the sausage is cooked through, stirring with the potatoes. Add the garlic and cook a few more minutes, then add the garlic salt (or just salt) and pepper, sugar and the canned tomatoes (or diced fresh tomatoes, but it's winter here).

Cook a few more minutes until most of the tomato juices have evaporated.