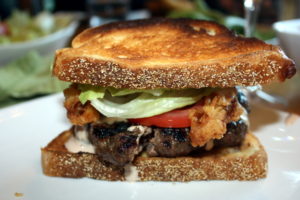 The June/July 2011 Every Day with Rachael Ray (2-year affiliate link) caught my eye because of the burger on the cover. I actually followed the whole recipe (maybe a first!), right down to these onion rings. The idea of adding chives to onions sounded good and I have a ton of chives in the garden right now.
You could eat these plain of course, but I loved them on the burger. I cut down a bit on the buttermilk and sour cream as my onion wasn't huge.
You can eat these buttermilk onion rings plain or in a burger. We did both and dipped them into the Red Ranch dressing they had in the same article, which we also used on the burgers. I liked their idea but played with the proportions to make it more ketchup heavy.
Buttermilk Onion Rings
Ingredients
vegetable oil for frying

1

cup

buttermilk

1/3

cup

sour cream

1

onion, peeled, sliced into 1″ slices and rings separated

1

cup

flour

1/4

cup

snipped chives

salt and pepper
Instructions
Heat a couple of inches of oil in a large deep frying pan over medium high heat or an electric fryer.

Mix the buttermilk and sour cream together, then soak the onion slices in it.

In a small shallow plate mix up the flour, chives, salt and pepper.

When the oil is hot enough, dip the onion slices one at a time into the flour and mix around to coat, then put the slice back into the buttermilk, then back into the flour for a double coating. Put in the hot oil and cook about 4-5 minutes, turning once, until golden on both sides. Don't fry too many at once. You don't want them touching.

Drain on paper towels or a rack.
Red Ranch Dressing
This is a great dipping sauce for French fries and onion rings and also tastes great on hamburgers.
Ingredients
1/4

cup

buttermilk

1/4

cup

sour cream

1/4

cup

ketchup

1

clove

garlic, minced

1

Tbs

fresh chopped chives or parsley or other herbs

1

Tbs

lemon juice

a few shakes of hot sauce
Instructions
Mix all the ingredients together and serve.