Perk up your green salads with these caramelized nuts. I've made these with walnuts and pecans, depending on what I have opened. Last night it was walnuts. This recipe is from The Food Nanny, a great book with good recipes and good menu ideas, essentially assigning a category to each day of the week with the recipes organized accordingly. Monday is comfort food, Tuesday is Italian, Wednesday is fish or meatless, Thursday is Mexican, Friday is pizza, Saturday is grill night and Sunday is family traditions. There's also a good selection of salads, vegetables, breads and desserts.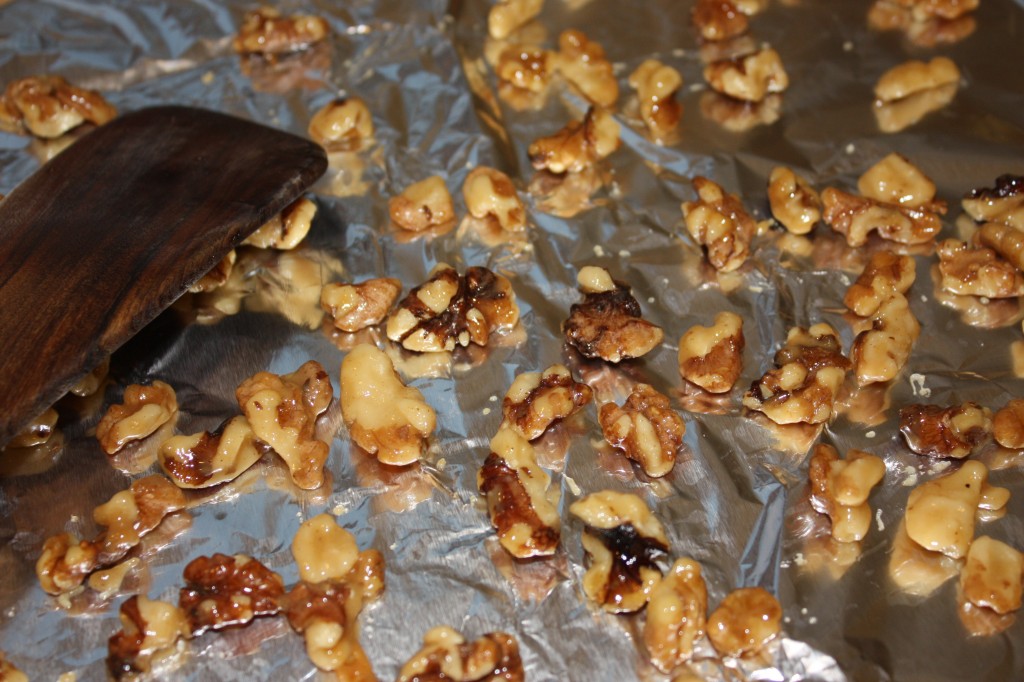 Caramelized Nuts for Salads from The Food Nanny
These easy caramelized nuts add a nice sweet crunch to your salads.
Ingredients
1

Tablespoon

butter

1

Tablespoon

honey

1/2

cup

walnut or pecan pieces

1/4

teaspoon

sugar
Instructions
Preheat the oven to 350F and cover a small pan with foil.

Melt the butter over medium heat then stir in the honey. It should get bubbly and foamy pretty quickly.

Add the nuts and cook, stirring, another minute.

Sprinkle the sugar over the nuts and cook another minute, stirring.

Put the nuts on the baking pan and bake about 4 minutes.

Let them cool. (I just lift the foil off the pan and onto a rack.)

Break apart and add to salad. Store leftovers in the refrigerator for a week or freeze for longer keeping.