I don't normally post something as simple as a sandwich but this one is worth the effort. The main goodness — and very easy to do — is the herb mayonnaise. Adding some dried dill, tarragon and basil really added a lot of flavor! The other new-to-me thing was to add green onions, sliced lengthwise. They still retained their crunch that way. The original recipe called for asparagus as well but I had none.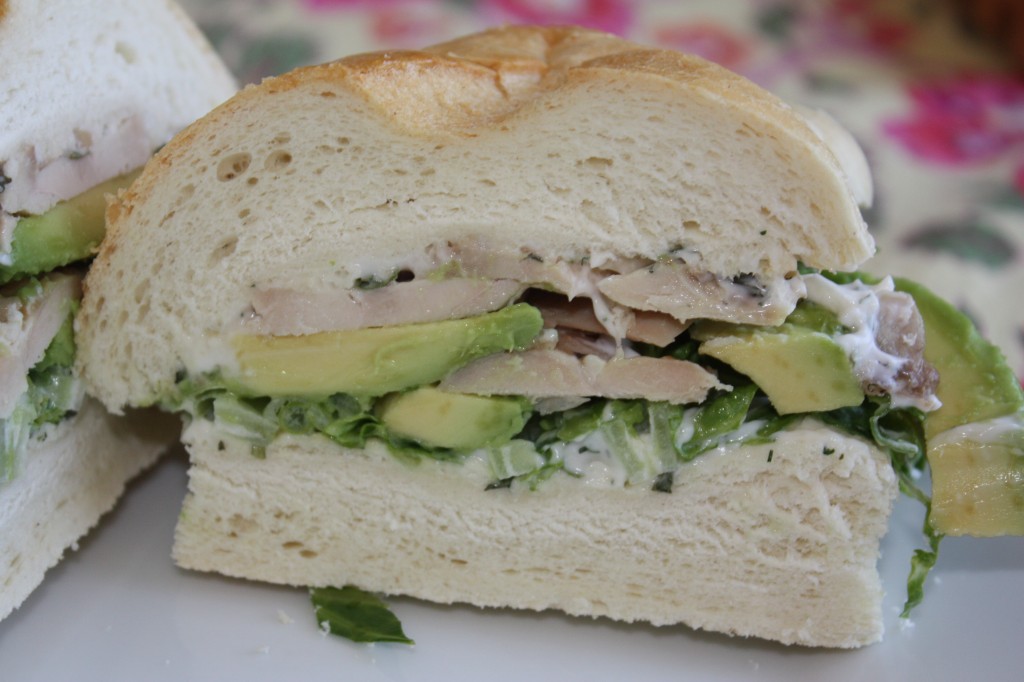 This is from a book called Eat: The Little Book of Fast Food, a fun book by Nigel Slater. Most of the recipes are for two to four people. Generally, there is a smallish picture of the recipe and the main recipe on the right page and then variations and ideas or notes on the left. At the top of each recipe is a list of the ingredients so it's easy to scan quickly and see if you have what you need. The chapters are organized by cooking or eating style. This one came from the first chapter "In the Hand." Other chapters include In a Bowl, In a Frying Pan, Under a Crust, In the Oven, etc. There is also an index of recipes by main ingredient so you can browse that way as well.
Chicken and Avocado Sandwich with Herb Mayonnaise
The herb mayonnaise with dill, tarragon and basil really adds a lot of flavor to a simple sandwich that has crunchy lettuce, smooth avocado and cold chicken.
Ingredients
2

slices

sourdough bread

2

Tablespoons

mayonnaise

1

teaspoon

dill

1

teaspoon

tarragon

1

teaspoon

basil

1

leaf crisp lettuce, shredded

2

green onions, sliced lengthwise

1/2

an avocado, sliced

a few slices of leftover chicken
Instructions
Toast the bread while you fix everything else.

Mix the mayonnaise with the dill, tarragon and basil.

Spread the herb mayonnaise on the toast.

Add the lettuce, onion, avocado and sliced chicken to one piece of toast and top with the other.
He has two variations on this. Both leave out the avocado, green onion and asparagus. The first is to add some chopped crisp bacon, a small diced chili and a handful of chopped cilantro to the mayonnaise. The second is to add diced cucumber and sliced radishes to the herb mayonnaise. Both variations call for diced chicken rather than sliced, so more like a chicken salad.
It's a fun book and not really so little.