This pasta with broccoli rabe and sausage is from Lidia's Favorite Recipes: 100 Foolproof Italian Dishes, from Basic Sauces to Irresistible Entrees, which I borrowed from the library. I have other cookbooks from her and love them so thought it would be fun to see what her favorites are.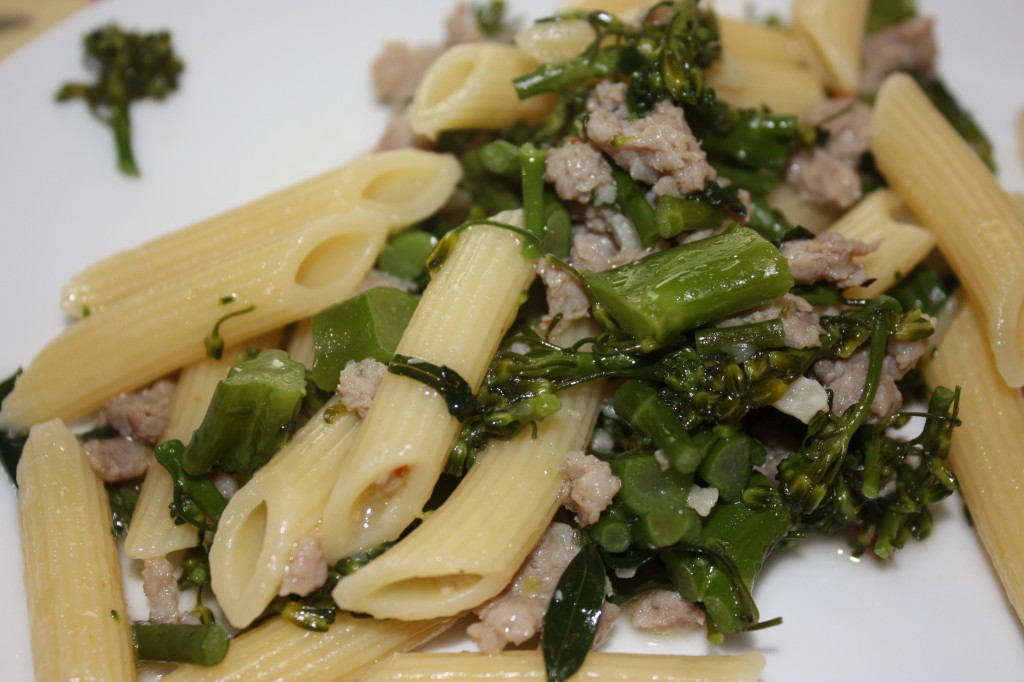 This caught my eye and I made it last night, after finding broccoli rabe at the grocery. It's like broccoli but the flowering heads are much smaller. I about halved her recipe but used 2 sausages instead of measuring out a quarter pound, which would have been about 1 and 1/2 sausages.
Lidia's Penne with Broccoli Rabe and Sausage
The broccoli rabe and sausage go well with the short tubular pastas like ziti or penne.
Ingredients
2

Tablespoons

olive oil

2

cloves

garlic, minced

a pinch of salt plus more for the pasta water

a pinch of red pepper flakes

1/2

pound

of penne or ziti pasta

1/4

pound

about 2 sausages sweet Italian sausage, removed from the casings and crumbled

1

pound

broccoli rabe, cut into small pieces

1/4

cup

grated Parmesan plus more for the table
Instructions
Put a large pot of salted water onto boil while you prep everything else. (Prep veg and crumble sausage.)

Heat the olive oil in a large heavy skillet with a lid. Add the garlic and cook about 2 minutes.

Start the pasta cooking and cook until al dente.

Add the sausage meat to the oil and cook about 5 minutes, stirring and breaking up the meat.

Add the broccoli rabe, salt, pepper flakes and 1/2 cup pasta water. (Just ladle it out of the pot.) Stir together, bring to a simmer and cover. Cook about 5 minutes, stirring now and then.

Take the lid off and cook uncovered over high heat about 3 minutes, until the liquids reduce a bit.

Drain the pasta and add it to the pan, mixing everything together. Add the 1/4 cup grated cheese and toss. Serve with extra cheese at the table.