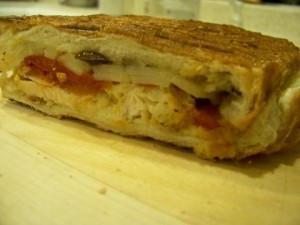 I really made too many chicken cutlets the other night. However, they are good simply reheated.  Last night I used some up in a Chicken Divan casserole.  For lunch today, my daughter took a simple salad with some chopped romaine lettuce mixed with Ranch dressing and a chopped chicken cutlet. She loved it.
Today for dinner, I felt like experimenting with a Panini sandwich of some kind using one of the last cutlets, with a simple salad on the side.  This came out really good!  I had a small jar of roasted red peppers in the pantry and used a few of those. I also used up the last of a small jar of mango chutney.  (The raisins are the dark spots you see in the picture.)   I also added a slice of provolone cheese.  The bread wasn't even very good, a bit stale, but somehow using it for a panini I didn't even notice!  So for one sandwich:
1 French roll or two slices of ciabatta or other hearty bread
1 slice of provolone cheese
1 leftover chicken cutlet
a spread of mayonnaise and mustard
a spoonful of mango chutney
a few roasted red pepper slices
Spread the mayonnaise and mustard and chutney on the bread. Lay the chicken cutlet down, then top with the red pepper slices and then the cheese. Spread a bit of butter on the outside of the sandwich and grill until heated through and the cheese is melted.
This came out great! I think the key to good Panini is a) the bread and b) having some little treat tucked into your pantry or frig, like the roasted red peppers and chutney.  I think this would pack up well in a lunchbox and be good at room temperature.