Is it time to put away the summer grill where you live? I'm in California so my grill stays active year-round but cold nights make me want something richer. Call it what you want, chicken stew or chicken fricassee, this is a good comforting meal on a cold night. It's not tricky to make at all, just simple ingredients simmered together with a cream sauce. This came from Ruth Reichl's My Kitchen Year.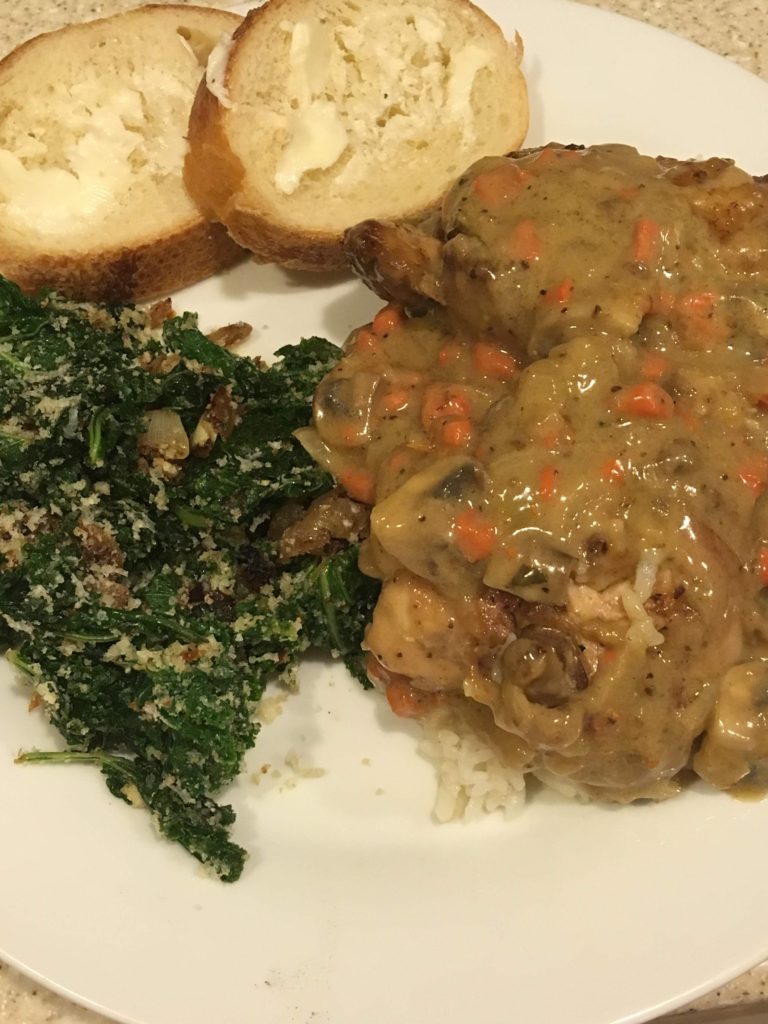 There are tons of variations of this. I've seen it made with vermouth instead of white wine, which is handy if you're not a wine drinker. Vermouth will keep after it's been opened, which is handy. You could use leeks instead of onions if you have some around. I prefer them but onions keep longer so I usually end up using onions if I haven't planned ahead. I've also seen it made with spring vegetables but I like the traditional mushrooms, carrots, onion and celery.
Chop everything ahead of time, then start cooking the chicken.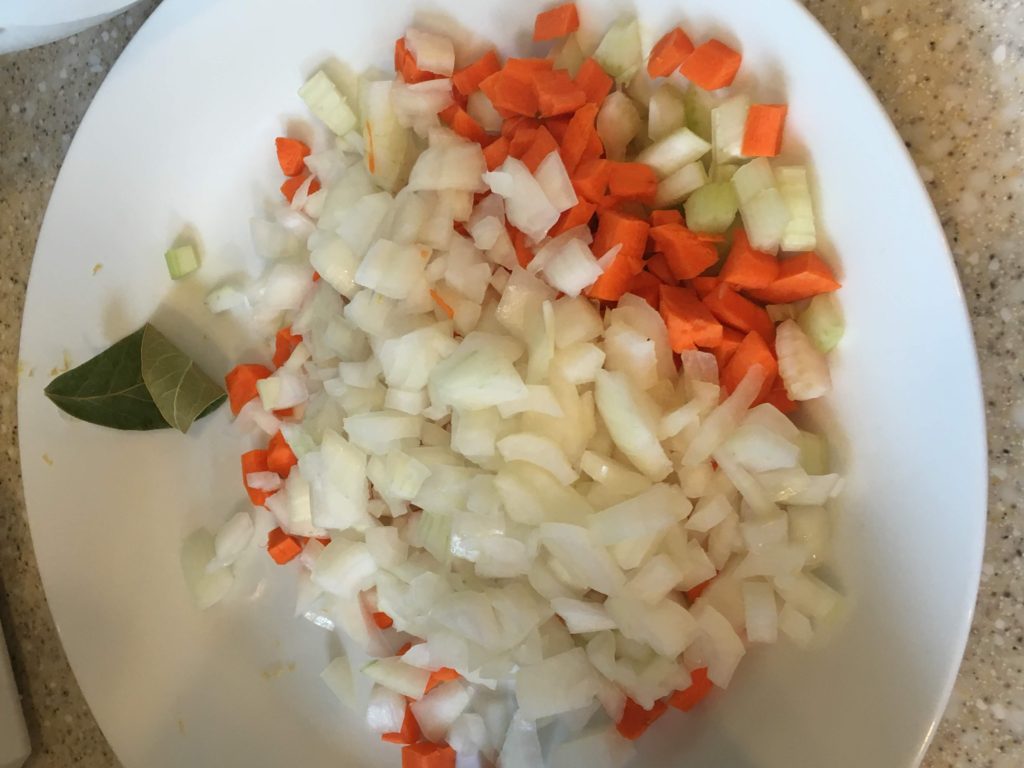 Saute the mushrooms in a separate skillet while the chicken is simmering away.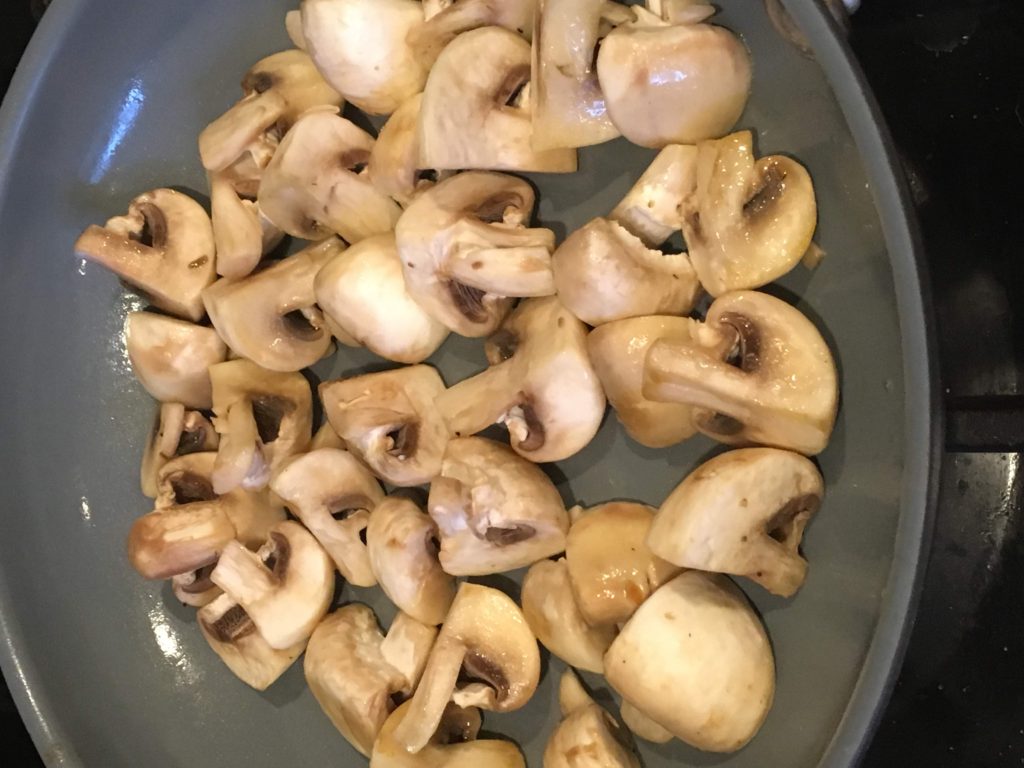 Serve the chicken stew over rice, mashed potatoes or egg noodles. A slice of good French bread is great for getting up the last bit of sauce!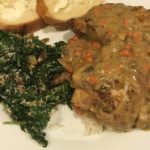 Print Recipe
Chicken Fricassee
Serve this chicken stew (fricassee) over rice, mashed potatoes or egg noodles.
Ingredients
4

bone-in chicken thighs or other bone-pieces

or other bone-in pieces

salt and pepper

3

Tablespoons

butter. divided

1

Tablespoon

olive oil

1

small onion, diced

about 1/2 cup

1

small carrot, peeled and diced

about 1/4 cup

1

small stalk celery, diced

about 1/4 cup

1

Tablespoon

flour

1/2

cup

white wine

1

cup

chicken stock

a few sprigs of fresh parsley

1

bay leaf

1/4

pound

mushrooms, quartered

1

egg yolk

2

Tablespoons

heavy cream

1-2

Tablespoons

fresh lemon juice
Instructions
Sprinkle the chicken pieces with salt and pepper.

Heat 1 Tablespoons butter and 1 Tablespoon olive oil in a skillet and brown the chicken over medium high heat, starting with the skin side down. This should take about 5 minutes on each side. Remove the chicken pieces.

Add the carrot, celery and onion to the pot and cook about 10 minutes, until softened.

Stir in the tablespoon of flour and continue stirring a few minutes, until the flour has been absorbed.

Stir in the white wine and cook a few minutes, until thickened.

Stir in the chicken stock and add the chicken pieces back to the skillet.

Add a sprig or two of fresh parsley and the bay leaf. Bring to a simmer, cover partially and cook the chicken for about 30 minutes, until cooked through.

While the chicken is cooking, use a separate skillet to saute the mushrooms in a tablespoon of butter and set aside. Salt lightly.

When the chicken is done, remove it to a platter and take the parsley and bay leaf out of the sauce. Continue simmering the sauce a few more minutes, until thickened.

In a small bowl, whisk together the egg yolk and cream. Add a few spoonfuls of the hot sauce and stir to temper it. Pour this mixture back into the sauce, stirring gently and let it cook a minute or so.

Add the chicken, skin side up, and cooked mushrooms back in, then stir in a tablespoon or two of fresh lemon juice and another tablespoon of butter.