The other day my youngest texted me to ask for the "other" kale salad recipe. "That sweet, salty and crunchy kale salad."  We both really like this one from Dr. Weil, which is simple and delicious, with Parmesan and bread crumbs.  When I have fresh pomegranates around, I also like this kale and pomegranate salad.  Those kale salad recipes are definitely side dishes. But the "other" kale salad is more main course like, with chickpeas and walnuts and apples and celery. I knew I had a copy of the recipe at home but I wasn't home. We both tried Googling the ingredients we could remember but couldn't find it online.  I've had this happen before. Web sites and blogs disappear, along with your favorite recipes! So I almost always print out recipes–plus I like to write notes on them as well as I rarely make anything exactly as written. Or I get ideas on how to mix things up a bit and want to remember these ideas later. And then I try to record my favorites here so we can find them–but I hadn't put this one up somehow!
When I got home I took a picture of my printout and sent it to her. I did find the blog was still alive but it still wasn't easy to find the recipe. When I did, I began laughing because her intro was all about losing the recipe and not being able to find it online anywhere!  Then she finally found her handwritten notes on it so she posted it so she wouldn't lose it again.
I rarely measure the quantities in recipes like this, sometimes I want more kale (more side-like) and sometimes I want more "stuff" in my salads.  Sometimes I'll throw in some extras like pomegranate seeds (which gives you sweet and crunchy at the same time!).  After my daughter said she was making this, I wanted some too so I made it for my lunch today. My daughter and I swapped pictures as she was eating hers at work and I ate mine at home.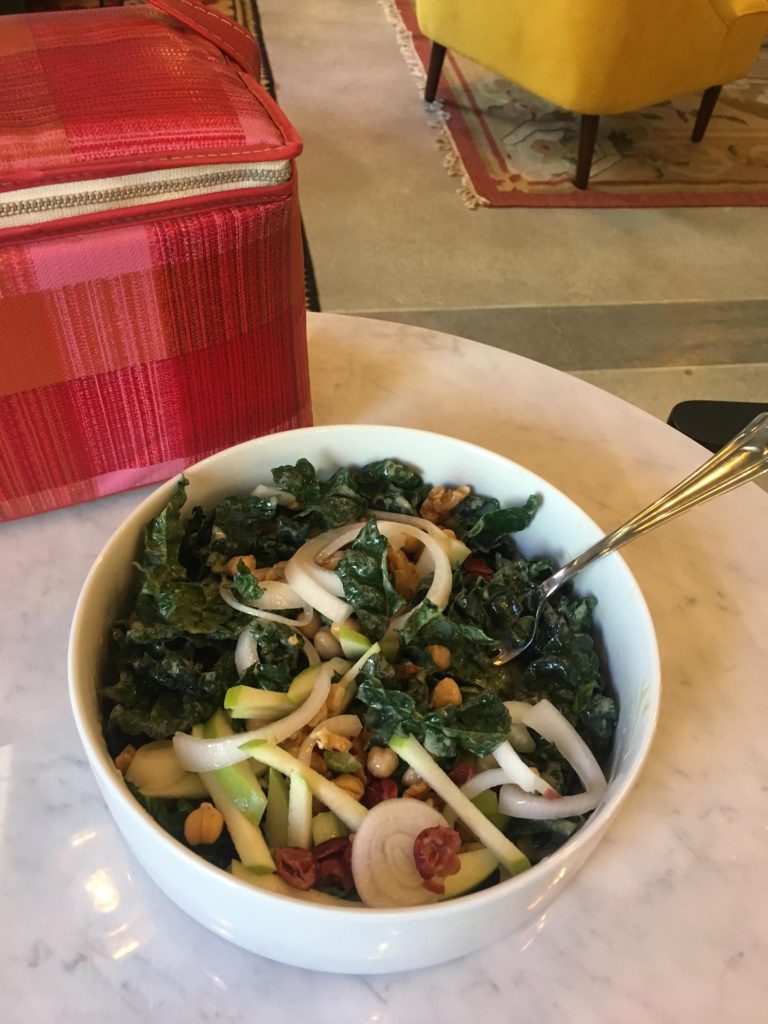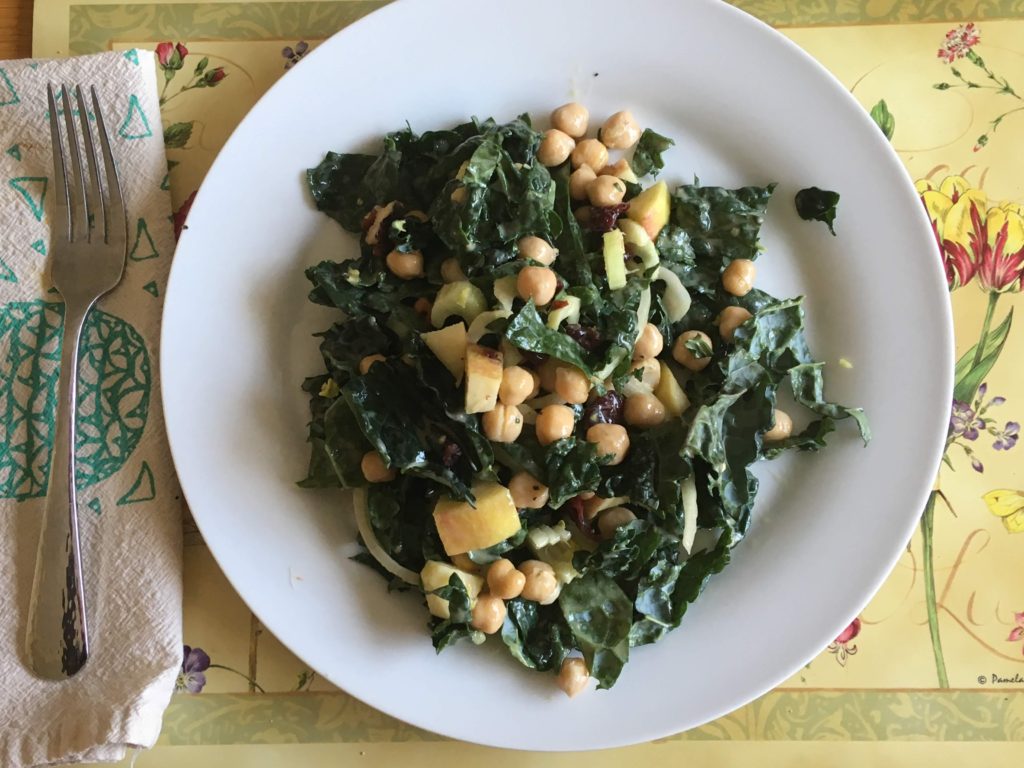 It was as good as I remembered but I wish I'd put more onion in. And then I started thinking about using a red onion next time. I almost used some different nuts because I thought I had no walnuts. Then I spied the bag of homegrown walnuts my boyfriend's brother had brought us so I cracked a few of those open and chopped them up. But as I was eating the salad, I thought about how good the nuts would be if they were candied a little. So I'm noting those thoughts now so I won't forget!
I'm posting the recipe here so my daughter and I can always find it. Thanks to Tea and Cookies for the recipe!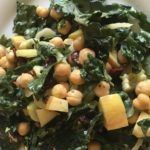 Print Recipe
Sweet, Salty and Crunchy Kale Salad
Ingredients
Salad Dressing
1/4

cup

olive oil

2

Tablespoons

tahini

2

Tablespoons

cider vinegar

2

Tablespoons

lemon juice

1

Tablespoon

honey
Salad
1 15-

oz

can of garbanzo beans, drained and rinsed

2

cups

or more of chopped kale

1

large apple, chopped or cut into matchsticks

1/2

cup

chopped celery

1/4

cup

chopped walnuts

2

Tablespoons

chopped dried cranberries

a few thin slices of onion

salt and pepper to taste
Instructions
Stir the tahini together before using, then whisk together the oil, tahini, vinegar, lemon juice and honey. Set this aside.

Strip the stems from the kale by holding the thick end of the kale leaf with one hand and stripping off the green parts with the other by sliding your hand down the leaf. (See the picture below.) Discard the thick stems then chop.

Add the kale, chickpeas, apple, walnuts, cranberries, onion and celery to a salad bowl and toss with as much dressing as you'd like.