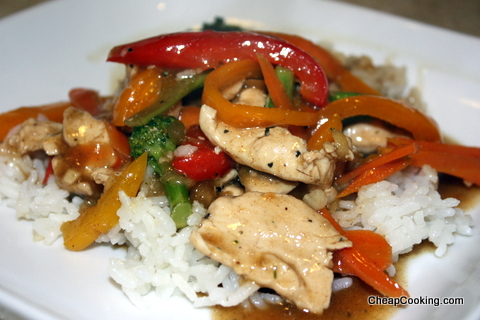 This delicious chicken and vegetable stir fry used up the last of the extra vegetables from the grad party last weekend, including broccoli and various colored peppers.   One thing I like about a good stir fry is the flexibility and the fact that it's a very tasty way to eat a lot of vegetables! This came from The MediterrAsian Way: A Cookbook and Guide to Health, Weight Loss, and Longevity, Combining the Best Features of Mediterranean and Asian Diets and Lifestyles (affiliate link). You can find a nice selection of recipes at their web site too. If they're all as good as this one, I'm sold!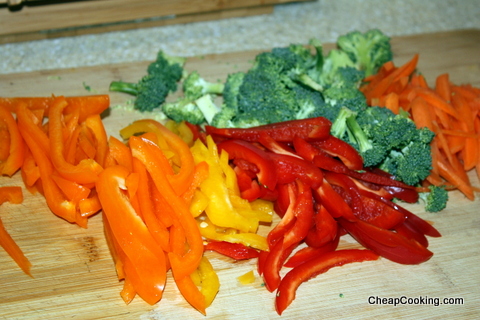 If you like to make a lot of stir fries, check out this bulk stir fry sauce from Northwest Edible. You can mix up a quart at a time and keep it in the fridge.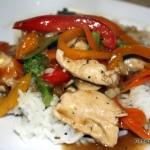 Print Recipe
Chicken and Vegetable Stir Fry
Ingredients
4

Tbs

soy sauce

4

Tbs

oyster sauce

I left this out

2

Tbs

rice wine or dry sherry

1

Tbs

sesame oil

1

Tbs

brown sugar

1

tsp

five-spice powder

4

Tbs

peanut or canola oil

divided

2

boneless skinless chicken breasts

about 24 ounces, cut into thin strips

2

carrots

peeled and julienned (cut into thin strips)

2

red

orange or yellow bell peppers, seeded and cut into thin strips

2

cups

broccoli florets

cut into bite-size pieces

4

cloves

garlic

minced

4

tsp

fine grated fresh ginger

2

cups

chicken or vegetable broth

2

Tbs

cornstarch mixed with 2 Tbs cold water
Instructions
Mix the sauce ingredients (soy sauce, oyster sauce, rice wine, sesame oil, five-spice powder and brown sugar) together in a small bowl and set aside.

Cut up all the meat and vegetables, including ginger and garlic.

In a wok or large skillet, heat 2 Tbs of the peanut oil over medium high heat. Add the chicken pieces and cook about 4 minutes, until cooked through, stirring constantly. Remove the chicken into a bowl.

Heat the other 2 Tbs of oil in the wok and add all the vegetables except for the ginger and garlic. Cook about 4 minutes, stirring constantly, until crisp tender. Add the ginger and garlic and stir fry another minute or so.

Return the chicken to the pan and add the sauce and the broth. Bring to a simmer and cook for a minute or so, then stir in the cornstarch paste. Simmer a few minutes, stirring to mix everything together well, until the sauce has thickened.

Serve over rice or noodles.
I like to pack any leftovers either separate from the rice or side by side so the rice doesn't absorb too much of the sauce. You can also pack the rice on top, then mix it up when you sit down to eat.