This simple Escarole and White Bean Soup tastes fantastic even though you just use water for broth. It's also filling and nutritious. Escarole is a lettuce from the chicory family. I originally looked for it in the "greens" section at the grocery store but found it over by the lettuces.

The original recipe for this soup is in Lidia's Italy in America (affiliate link to Amazon) and used a mix of kale and escarole. If you use kale, add it about 15 minutes before you add the escarole as it takes longer to cook. She also called for using whole dried peperoncini to cook with the garlic, then you remove them before serving the soup. I've never seen whole ones so substituted red pepper flakes and just left them in the soup.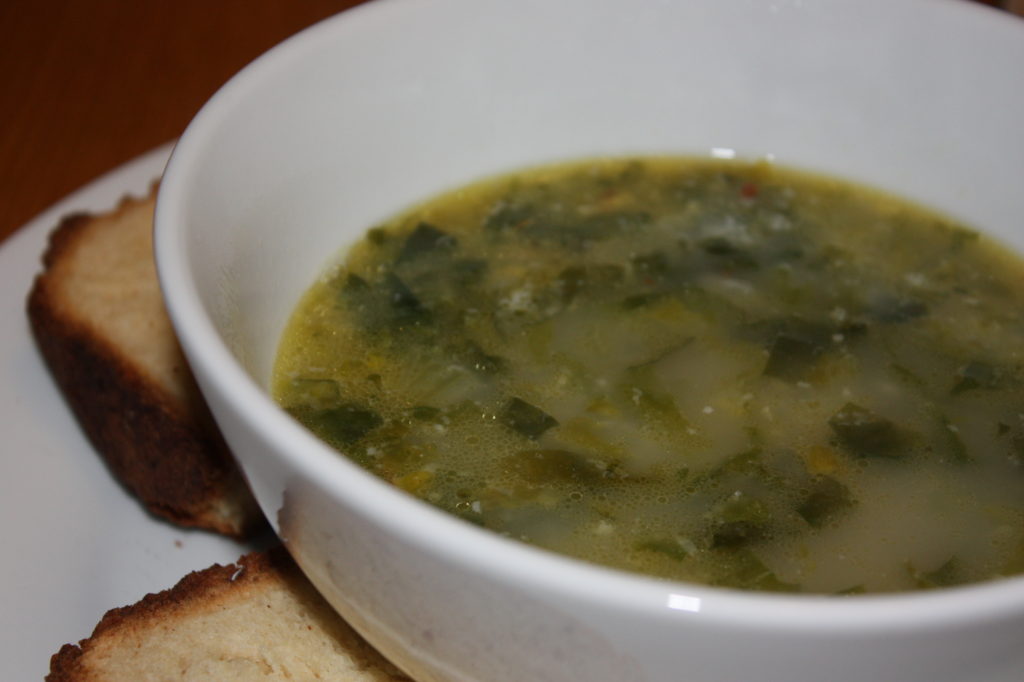 Escarole and White Bean Soup
Ingredients
3

quarts

water

1/2

pound

dried small white beans or cannellini beans

2

bay leaves

1

Tablespoon

olive oil

1

head escarole, trimmed and shredded

1

Tablespoon

kosher salt

1/4

cup

olive oil

5

cloves

garlic, sliced

1/2

teaspoon

dried red pepper flakes

grated Parmesan for serving
Instructions
Soak the dried beans overnight, then drain them.

Bring the water to a boil in a large soup pot while you wash, trim and slice the escarole.

Add the drained beans, bay leaves and ! Tablespoon olive oil to the soup pot. Bring to a boil, then reduce the heat to a simmer. Cook partially covered about 45 minutes. (If you're using kale, add it after 30 minutes.)

Add the escarole and salt and cook another 20-30 minutes.

In a small skillet or saucepan, heat the 1/4 cup olive oil and add the garlic slices and red pepper.Cook, stirring, about 2-3 minutes until the garlic is golden. Add a lade or two of soup broth to the skillet and simmer a minute or two, then pour everything back into the soup pot.

Taste for salt and add more if needed. Simmer another 10 minutes or so.

Serve with grated Parmesan.