I borrowed Smitten Kitchen Every Day : Triumphant & Unfussy New Favorites (Amazon link) from the library.  There are many recipes in here that are healthy and sound delicious but the first recipe I tried is called "Bake Sale Winning-est Gooey Oat Bars" that is decidedly not healthy but so so good tasting!  There's an easy crust on the bottom that you mix up in the food processor, press into a pan and par-bake, then a butter, sugar, coconut, oats, eggs, chocolate and dried fruit batter that you spread on top of the crust and bake again until set.
I decided to make a batch to take camping and I used chocolate chips and dried cherries in the first batch I made. They were a big hit with our fellow campers. I left a few at home for my daughter to enjoy as she housesat for me. I also left the cookbook open to the recipe and she made a batch immediately after eating the ones I'd left for her. She didn't know I had the coconut and dried cherries in the freezer so just skipped them. She said they were still excellent but she liked the ones with the dried cherries best.
So play around with your favorite dried fruit. Mix it up with white chocolate, dark chocolate or chopped candy bars. (Too bad I don't have any leftover Halloween candy because it would be fun to make these with some mixed candy bars so each bit was a little different I bet!)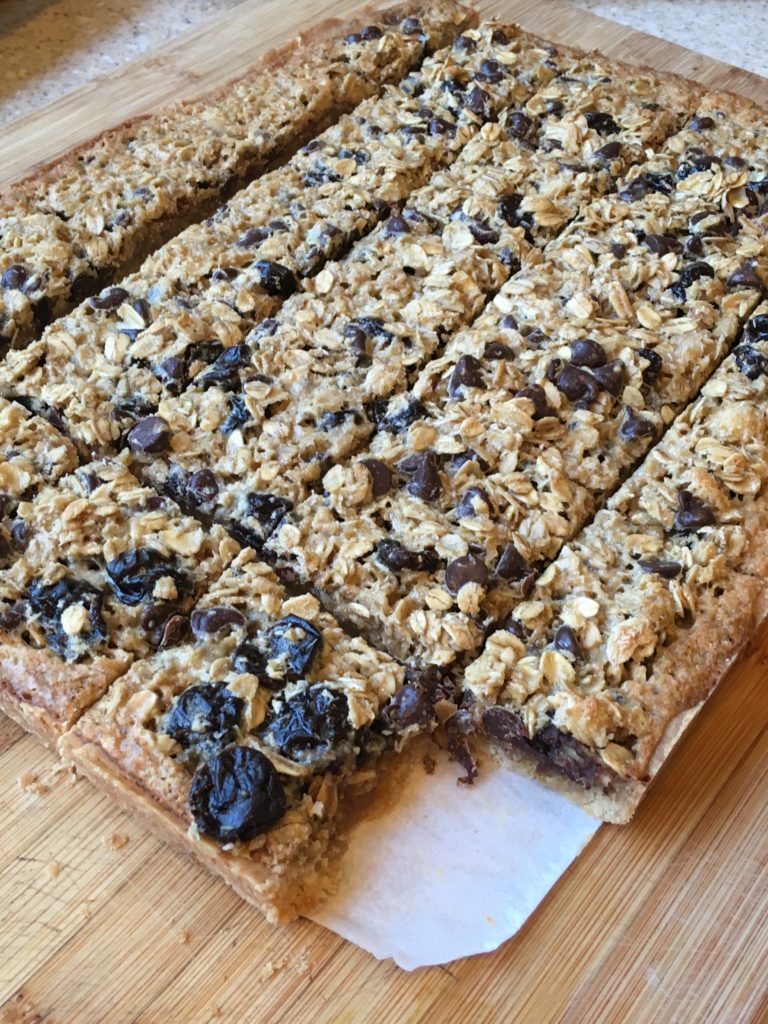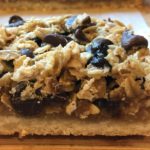 Print Recipe
Gooey Oat Bars
Ingredients
Crust
nonstick spray

1 3/4

cups

flour

1/2

tsp

salt

1/3

cup

sugar

3/4

cup

cold butter
Filling
1/2

cup

butter

1/2

cup

sugar

3/4

cup

brown sugar

1/4

tsp

salt

3

eggs

1 1/2

tsp

vanilla extract

1 1/3

cup

oats

1/2

cup

shredded coconut

1 1/2

cups

chocolate chips and dried fruit
Instructions
Make the crust
Heat the oven to 350 F. Line the bottom of a 9x13 baking tray with parchment paper and lightly spray the paper with nonstick spray.

Combine the flour, salt and sugar in a food processor. Cut the cold butter into chunks and let the machine run until the mixture forms large chunks. It takes longer than you think it might!

Put the dough onto the parchment paper and press it out with your fingers across the bottom and 1/4" up the sides. Bake 15-20 minutes, until pale but golden.
Make the filling
Melt the butter in a saucepan over medium heat. Cook, stirring almost continuously, about 5 minutes, until golden brown bits form on the bottom of the pan. Remove from the heat and stir in the white and brown sugar, then let it cool 5-10 minutes.

Whisk in the eggs one at a time, then the vanilla. Then stir in the oats, coconut and m chocolate and dried fruit. Pour over the parbaked crust, then bake 15-20 minutes, until just barely set.

Let cool, then cut into squares.