The big party was a great success I think!  I borrowed some long folding tables and one card table, added my own two card tables and used a very sturdy long table to hold the food.  We bought plastic table cloths, and paper plates and napkins plus some decorations. We made:
cooked shredded chicken for tacos
rice (but I forgot to set it out!)
mango and cucumber salsa (minus the black beans)
fruit kabobs
guacamole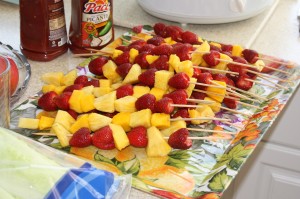 Friends brought:
watermelon and cucumber salad
cheese and bread and crackers
spinach dip
For convenience, I bought:
preshredded cheese
crispy taco shells
corn tortillas (for soft tacos)
green salsa
tomato salsa
cake
We also had shredded lettuce and sour cream out.
My graduate and her friend set the (mostly borrowed) tables with lots of jars filled with flowers from the yard.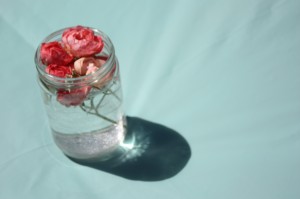 The day before the party I cooked two chickens in crockpots (one borrowed). I added some chopped chipotle peppers, Worcestershire sauce, orange juice, garlic salt and pepper.  When they were done, I shredded the chicken stored it in the fridge with the sauce. I bagged and froze the bones to make chicken broth another day.
The morning of the party I cooked ground beef with taco seasoning. I cooked 7 pounds and probably only needed 4 or 5 but the leftovers freeze well.  I cooked two more chickens and probably could have skipped that. But again, it freezes well and was not strongly flavored so will go well in chicken pot pies, soup, quesadillas, etc.I made the salsas and guacamole, set out dishes, heated up the beef from the other day and set the meat out in crockpots.
It was way hotter than normal, up to 105 I think and I don't have enough shade for 40 people. A kind neighbor brought two umbrellas over. Luckily the party was 4-7 so the sun slipped behind some trees and shade started to appear about 5:30.
It was quite a lot of fun with a great mix of friends and family.
And now I just want to sit here and relax. 😉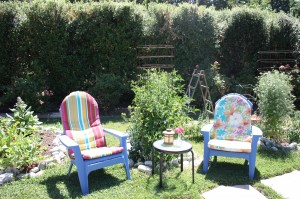 Save
Save
Save