This potato salad recipe originally came from my Grandma, although I've modified it a bit.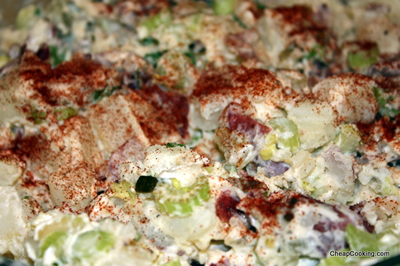 I like a potato salad with some crunch and flavor so I use a lot more pickles and  celery than she did. And more onion. And celery. So if you don't like a crunchy potato salad you can scale those ingredients back.
Grandma Alice's Nippy Potato Salad
The sour cream and mayonnaise base add a nice tang to my Grandma's potato salad.
Ingredients
2

pounds

red potatoes

about 7-8 cups once cut up

2

Tbs

red wine vinegar

or in a pinch I've used dill pickle juice

1/2

tsp

salt, more or less

1/2

tsp

pepper, more or less

2

Tbs

Dijon mustard

1/2

cup

sour cream

1/2

cup

mayonnaise

1

cup

diced celery

1

dill pickle, diced

about 1/2 cup, sometimes I do more

2-3

scallions, sliced thinly AND/OR 1/4 –1/2 cup diced red onion

or yellow…

1/4

cup

minced fresh parsley

paprika to sprinkle on top

Optional: diced pimentos, chopped black olives, sweet pickles instead of dill, diced hard boiled eggs

up to 3
Instructions
Cook whole red potatoes in boiling water until you can easily poke through them with a paring knife (but not to the point that they are falling apart). Large-ish potatoes (so that it took 7 to make the 2 pounds) took about 25 minutes. Adjust up or down depending on the size of your potatoes.

Drain the potatoes, rinse in cold water, drain again and let cool a bit. Cut into 1/2-3/4" inch chunks. I like skin on but you can take the skin off before cutting if you don't like the skin. Toss the still warm potatoes with the vinegar, salt and pepper.

In a small bowl blend the mustard, sour cream and mayonnaise until smooth.

Add the celery, pickles and onions and/or scallions to the potatoes. Stir in the dressing and mix thoroughly. Sprinkle the parsley on top and mix in a bit. Chill an hour or overnight, covered. Sprinkle with paprika just before serving.