With two lemon trees, we have lots of lemons. One of our favorite things to do with them is to juice up a bunch and then make lemonade.  The key to good lemonade is to make up a simple syrup by boiling equal parts water and sugar.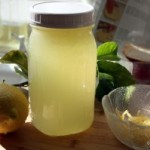 Print Recipe
Homemade Lemonade
Ingredients
For the Lemonade
1

cup

lemon juice

1

cup

simple sugar syrup

more or less to taste

4

cups

cold water
Instructions
Simple Syrup
Bring the water and sugar to a boil, stirring, until the sugar dissolves.

Let it cool and then pour into a glass jar to store.
Lemonade
Mix 1 cup of the simple syrup with 1 cup lemon juice and 4 cups water.
You can also mix up the simple syrup and the lemon juice and NOT add the water. That makes a smaller container to store in the refrigerator and everyone can add water to their tastes, depending on how strong they like their lemonade. You can add sparkling water too!