I periodically pick up and re-read portions of Tamar Adler's An Everlasting Meal (affiliate link). It's a great read to get your creative cooking juices going. And it's focused on using things up and doing a little work now that can be used tomorrow, etc. Highly recommended but not just a recipe book! And this Minestrone Soup from An Everlasting Meal is one of my favorites.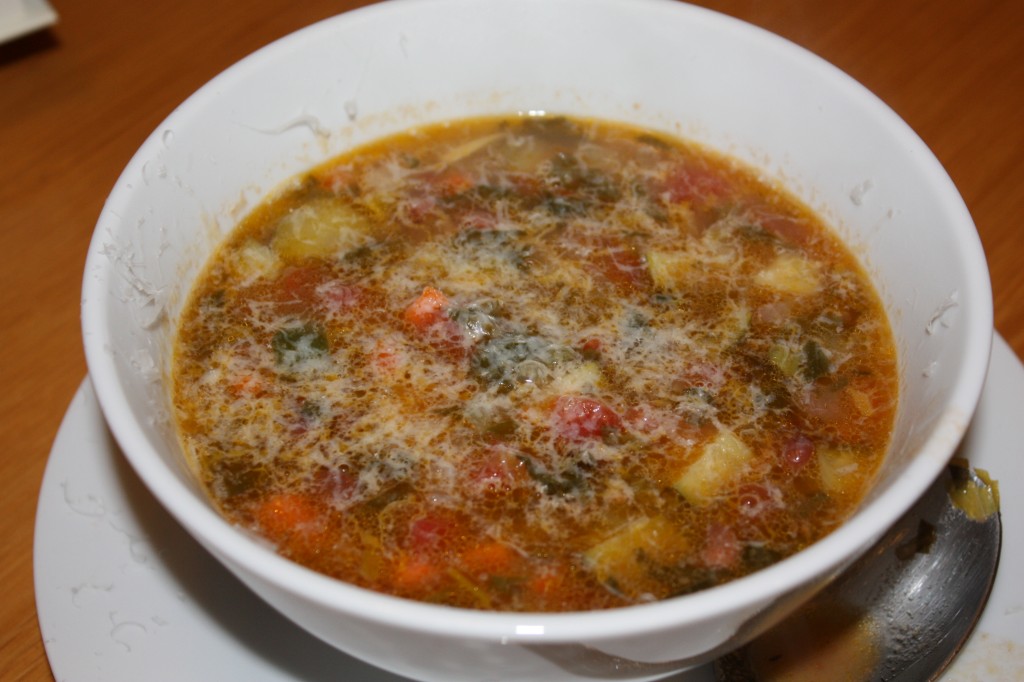 Last night I wanted to make some soup, something vegetable heavy. I remembered there was a version of minestrone in here that had sounded good. I had some cooked small red beans in the freezer. (I freeze cooked beans in 2 cup portions.) And I had bought some watercress, spinach and kale at the grocery store and had a couple of zucchini languishing in the vegetable bin. I used a lot less beans than called for but wanted something a little lighter. If you want a thicker more-filling soup, use the higher end of the range. If you're cooking the beans just to make the soup, save the bean broth and use it in the soup.
This was so good and just what I needed last night. I used just onion, leek, carrot and celery as the base. And I used some chopped yellow and green zucchini instead of the root vegetables.
Adler suggests you should only cook as much pasta as you'll need for soup you'll eat this week. If you freeze some of the soup, cook fresh pasta and add it when you serve it. I got lazy and added the cup of pasta straight to the soup and cooked it. I'm not that picky about the texture.
Tamar Adler's Minestrone Soup
A flexible and delicious minestrone from Tamar Adler.
Ingredients
1

cup

each diced onion, carrot, celery, leek and/or fennel

3

cloves

garlic, peeled and sliced

1/2

cup

olive oil

a pinch of red pepper flakes

1

cup

total of any combination of fresh parsley, basil, thyme or marjoram

2-3

cups

total roughly chopped greens

kale, collard greens, spinach, watercress, Swiss chard, mustard greens, escarole, cabbage

1/2

cup

whole tomatoes, chopped or canned tomatoes

drained, but save the juice

optional: 1/2 – 1 cup chopped root vegetables

2-6

cups

cooked beans

a rind of Parmesan

8

cups

liquid

any combination of bean broth, stock, tomato juice from tomatoes

1

cup

small pasta
Instructions
Heat the olive oil in a large soup pot. Add the onion, carrot, celery, leek, fennel and garlic and cook, stirring, until tender.

Stir in the red pepper flakes and cook 1 minute.

Add the herbs, greens, tomatoes, root vegetables, beans and cheese rind. Add liquid (bean broth, stock, etc.) and simmer 45-60 minutes, stirring periodically.

Add the pasta and cook according to package directions.

Serve the soup and garnish with grated Parmesan and/or pesto, olive tapenade, a dollop of ricotta or just chopped fresh parsley.
I've been on a soup roll. The ramen I made looks great but was kind of bland so I'm not sharing the recipe. But isn't it pretty?! Goes to show that pictures can be deceiving. Hence all the pins of bad recipes. Good photography skills does not equal good cooking skills! (And vice versa of course!)