I have been cooking. I've not just been blogging. I've been on an Indian food kick lately and it's all because of Made in India by Meera Sodha. The recipes are well-written and taste fantastic. They are not overly complicated. Many could be weeknight dinners. She writes with a friendly tone and the intro to some recipes gives you the story behind them or a serving suggestion.
I love all the chutneys and condiments. One of the easiest and tastiest almost needs no recipe! Peel a red onion, slice it in half, then cut each half into thin slices. Sprinkle 3 Tablespoons of lime juice and 1/2 teaspoon salt and mix well, then let them sit in the fridge for at least an hour.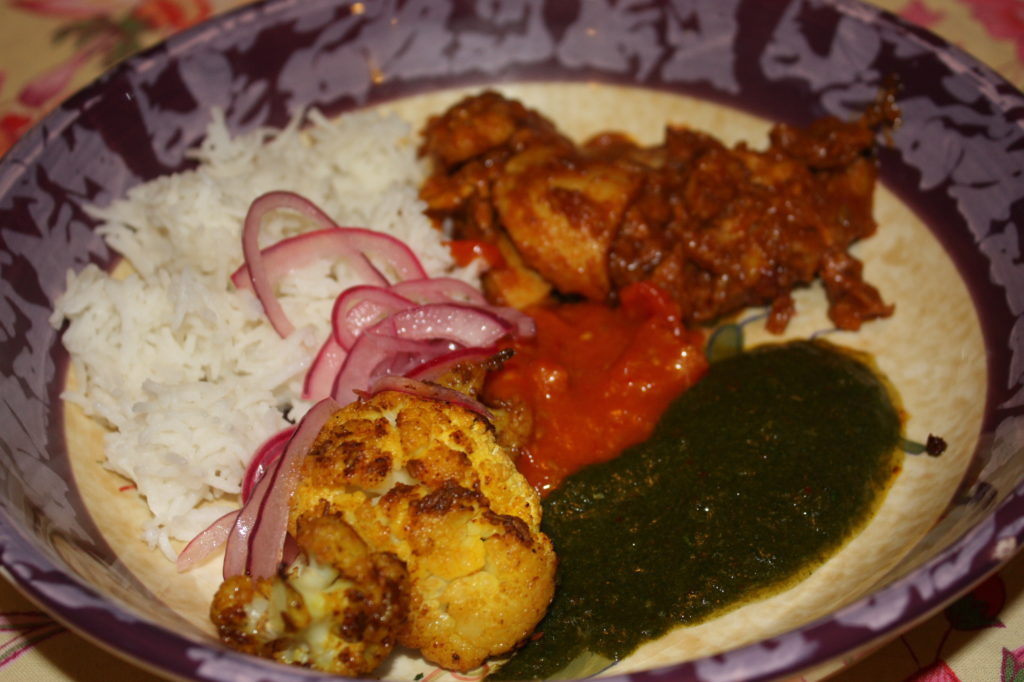 I even made the naan one day when a friend came over for lunch to help me eat the leftovers from the night before.
Roasted Cauliflower with Cumin, Turmeric and Lemon
This roast cauliflower with Indian spices goes great with chicken curry.
Ingredients
1/2

a large cauliflower

about 3/4 pounds

1

teaspoons

cumin seeds

1/2

teaspoon

salt

1/1

teaspoon

chili powder

1/4

teaspoon

ground turmeric

3

Tablespoons

canola oil

juice of half a lemon
Instructions
Preheat the oven to 350 F. Line a baking pan with foil and bring a large pot of water to boil.

Trim the cauliflower and then break it into fairly evenly sized florets.

When the water comes to a boil, add the cauliflower and blanch 1 minute, then drain. Let it air dry 5 minutes or so.

Use a mortar and pestle to grind the cumin seeds with the salt, then add the chili powder, turmeric and oil and mix it and mash it up well.

Put the cauliflower florets on the foil-lined pan and drizzle the spicy oil on it, turning to coat well.

Put the pan in the oven and bake about 30 minutes, stirring now and then so the cauliflower roasts evenly.

Put the cauliflower in a serving dish and squeeze the lemon juice on it, then serve.
One of my other favorite recipes in here is her Mum's Chicken Curry. I've made it at least twice so far, once with skinless bone-in chicken thighs and once with boneless skinless chicken thighs. She also suggests skinless chicken legs.
Meera's Mum's Chicken Curry
Skinless chicken is cooked in a rich tomato-based curry sauce.
Ingredients
2

Tablespoons

ghee or unsalted butter

1

Tablespoon

canola oil

1

teaspoon

cumin seeds

2 2

" cinnamon sticks

2

large onions, finely chopped

2 1/2

" piece of ginger, peeled and grated

6

cloves

of garlic, crushed or minced

2

green chilis

or 1 teaspoon chili powder

salt to taste

3/4

cup

strained canned tomatoes

2

Tablespoons

tomato paste

1 1/2

teaspoons

ground cumin

1/2

teaspoon

ground turmeric

3

Tablespoons

yogurt

plus extra to serve

2

pounds

or so of skinless chicken legs or thighs

2

Tablespoons

ground almonds

1

teaspoon

garam masala
Instructions
Put the butter (or ghee) and oil and a large lidded frying pan and heat over medium heat. Add the cumin seeds and cinnamon sticks and cook a minute or so, then add the chopped onions. Cook 10-12 minutes, stirring periodically, until golden brown.

Grind the ginger, garlic, green chilis and a pinch of salt in a mortar and pestle until paste-like.

Stir the paste into the onion mixture and cook 2 minutes, then stir in the tomatoes and cook another few minutes. Stir in the tomato paste, ground cumin, turmeric and 1/2 teaspoon of salt.

Slowly stir the yogurt into the curry and cook until it starts to bubble. Add the chicken pieces and cook, covered, for 30 minutes or so, until the chicken is cooked through.

Add the ground almonds and garam masala and cook another 5 minutes.
I've also made eggplant and cherry tomato curry, cauliflower and cashew coconut curry, coconut and tamarind curry, cilantro chutney chicken, rice pilau with cinnamon, cloves and cashew nuts, dal (lentils), worker's curry (with chickpeas), cilantro chutney (delicious and pictured above), date and tamarind chutney, garlic pickle and sweet and hot tomato chutney (another favorite and pictured above).