Last night after dinner I started the New York Times' famous no knead bread.  I definitely need to add more flour (or maybe cornmeal) to the towel next time because my bread stuck to it when I tried to dump it into the pan. But no matter. It still came out great!
And it's so easy. Mix up the flour, water, salt and a tiny bit of yeast and just let it sit for 18 hours.  Turn out and knead a few times, then let it sit 15 minutes.  Form into a ball and let it sit 2 hours.  Preheat the oven and a covered dish, bake 1/2 an hour covered and another 15-30 minutes uncovered. Starting it after dinner makes it ready for the next night's dinner if you're around in the afternoon.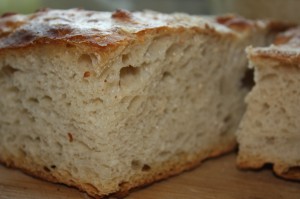 Doesn't that look great? It was a bit flatter than I expected but tasted great and had that chewy texture that I miss from bread machine bread.