Marlo kept raving about some beef and vermicelli soup his mom had made so I had to call her and ask what she'd done. She's 91 and still loves to cook and is quite good at it! She said she'd never used a chuck roast for soup before but she thought she'd try it and I'm glad she did. The soup is delicious.
She likes to take the leeks, carrots and celery out after cooking them in the broth, as they've lost most nutrients and texture. After shredding the roast, add more chopped vegetables to the broth. I only added a carrot this time but I think next time I will add more carrot and some sliced celery as well. Maybe a sliced leek as well.
So this isn't exactly how she made it, but it is how I made it. And it is good!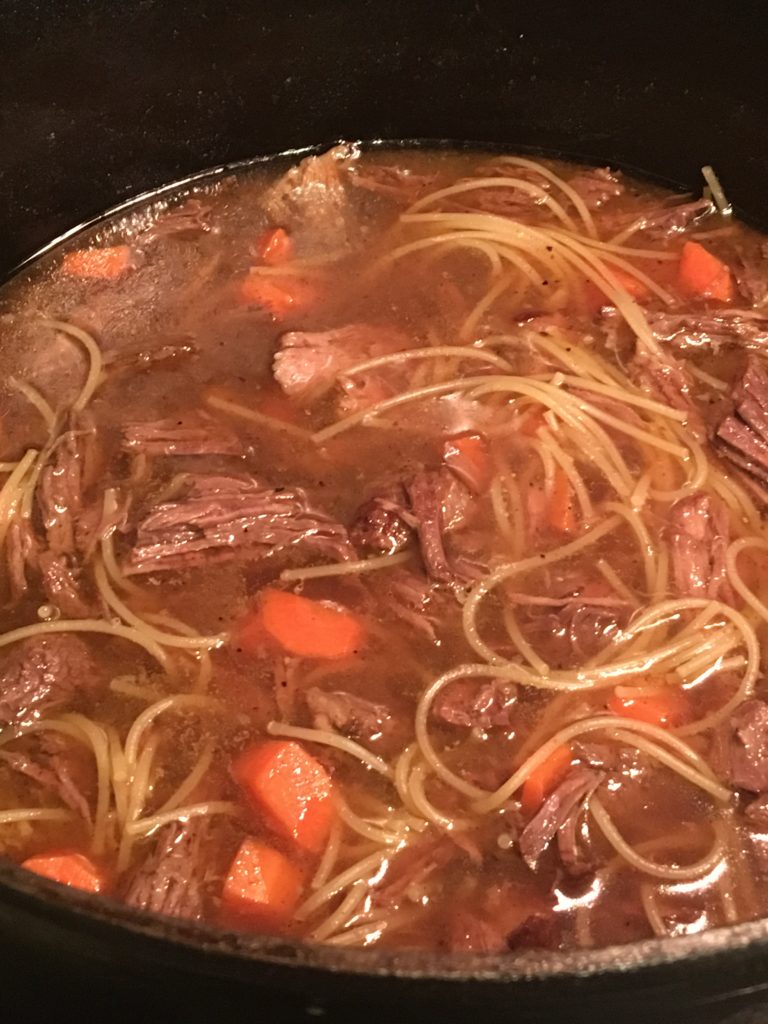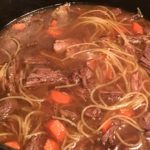 Print Recipe
Odette's Beef and Vermicelli Soup
Simmer a chuck roast (or half of one) in beef broth with leeks, carrots, celery and tomato, then shred and add vermicelli.
Ingredients
1

Tbs

oil

1

pound

chuck roast

salt and pepper to taste

1

clove

garlic, smashed

3

carrots, peeled and chopped,

divided

4

stalks

celery

1

leek, cleaned and chopped

2

tomatoes, cut in quarters

1

quart

beef broth

1

handful

vermicelli noodles, broken into pieces
Instructions
Heat the oil in a heavy soup pot or Dutch oven.

Salt and pepper the chuck roast on all sides, then add to the heated oil, browning well on all sides.

Add the garlic clove and let it flavor the oil a little but make sure it doesn't burn.

Add 2 carrots, 2 stalks celery, the leek and the tomatoes. Let the vegetables cook in the oil a bit. Remove the garlic clove.

Add the beef broth and bring to a simmer. Put the lid on slightly ajar and cook an hour and a half to two hours, until the meat is almost falling apart.

Take the meat out of the pot and remove any fat, then shred.

Strain the broth to remove all the vegetables, then put the shredded meat back in the pot, along with the remaining carrots and celery.

When the vegetables are cooked, add the vermicelli and cook until done.
Notes
If there are leftovers, the noodles will absorb a lot of the remaining broth. If you're purposely cooking for leftovers, consider adding the pasta when you reheat it.