My eldest broke both bones in her ankle last week and had her surgery today. Yesterday she asked if I'd make her and her boyfriend dinner, which I'd been offering to do. She thought soup sounded good and I thought of this ribollita. She nixed that. She wanted Chicken and Drop Dumplings. This is one of her favorites from childhood.
I have two other chicken and drop dumpling recipes posted here and here but I combined them yesterday and thought they came out great! For myself, I would halve the dumpling part but she loves the dumplings so I went with the full amount. This makes a LOT but it all gets eaten!
Ribollita Soup
After I delivered the soup to them I came home and made the ribollita for myself. My only quibble with this recipe is that I think I will cut the oil down by 1/4 cup or so next time. Saute onion, garlic and celery, then add some herbs and seasonings. Add a can of tomatoes and cook, then add some chopped greens (kale, spinach, Swiss chard, collards, etc.) and cook until the greens are wilted. Add white beans, broth or water, a Parmesan rind, and some stale bread torn into pieces. Cook on low, covered, about half an hour. Remove the rind, stir in some more olive oil, top with grated Parmesan and serve! The bread dissolves into the soup so that you can't even tell it's there but the broth is thicker. And it's very yummy!
Chicken and Drop Dumplings
For the chicken and drop dumplings, I use a whole chicken, just removing the innards and neck. Cook the chicken with onion, carrots, celery, garlic and bay leaves plus salt and pepper for an hour or so, then pull the chicken out to let it cool so you can take the meat off the bones.
I kept simmering the broth because I had used a slightly too large pot and I wanted to concentrate the broth a bit. Once the chicken cools so you can handle it, pull the meat off the bones and shred it. I just do this by hand, tearing the meat into strips.
I also want to try rolling the dough and making cut dumplings one day but I thought the day before surgery was not a good time to experiment too much! I just pulled pinches of the dough off and rolled them in my hands a bit before dropping in the soup. They puff up quite a bit and I had to separate them after they'd cooked a bit. I also cooked them 5 minutes longer because when I cut into one it wasn't quite done at the 15 minute mark, although I haven't noticed that before. I'm not sure what I did differently. Maybe this pot was narrower and crowded the dumplings more.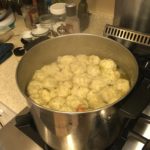 Print Recipe
Chicken and Drop Dumplings #3
I combined several recipes to get great soup and tasty dumplings here.
Ingredients
1

whole

chicken

2

tsp

bouillon or use some chicken broth in place of some of the water

water to cover chicken

3

stalks

celery, chopped

2

carrots, peeled and chopped

1

onion, peeled and chopped

2

bay leaves

1-2

tsp

salt

1

tsp

pepper

1/3

cup

flour

1

cup

water
Dumplings
2

cups

flour

4

tsp

baking powder

1

tsp

salt

1/2

tsp

pepper

1

Tbs

dried parsley

1

pinch

cayenne pepper

1

cup

milk
Instructions
Take the innards and neck out of the whole chicken and put it in a pot. Alternately you can use cut up chicken parts. Cover with water, at least 2 quarts.

Bring to a simmer and skim off any grey foam that rises to the surface. Add the vegetables, bay leaf, and seasonings. Simmer for 45 minutes to an hour, until the chicken is cooked through.

Remove the chicken from the pot and let cool until you can handle it. (Just let the broth keep simmering.) Pull them meat off the bones and shred it into large chunks.

Remove the bay leaves. Add the chicken back to the pot.

Stir the 1/3 cup flour and 1 cup water together with a whisk, then stir into the soup to thicken it a bit.

In a mixing bowl, whisk together the flour, baking powder, salt, pepper, parsley and cayenne. Add the milk and stir until combined.

While the broth is at a simmer, drop small spoonfuls of the dumpling dough into the broth. When all the dough is in the soup, stir gently to separate them, then cover and cook 15-20 minutes, at a simmer, until the dumplings are cooked.
Notes
Instead of salt and pepper and garlic powder, you can use 1 tsp Paula Deen's seasoning. 
1 cup salt
1/4 cup black pepper
1/4 cup garlic powder
Add onion powder too if you like.