When you grow artichokes (or anything else really), you need to find new ways to eat them!  This raw artichoke salad is one I've now made many times. I don't measure anything anymore and often make it from just one artichoke just for me. I got the original recipe from Buvette (Amazon link), a cookbook I need to explore more if all the recipes are as good as this one!
I grew up eating artichokes barely trimmed then  boiled or steamed until soft, then cooled to room temperature. Then we'd pull the leaves off one at a time and dip the heart end in mayonnaise mixed with lemon juice and scrape off the edible part with our teeth.  And they're good that way–but you can only eat so many!
Now I've learned to trim them more if I'm serving them any way other than pulling off the leaves and dipping them.  Squeeze half a lemon into a bowl of water. You'll drop the artichokes in the lemon water to avoid discoloration while you're prepping them all.
Cut the stem off and then snap off all the dark leaves until you're down to the light-colored ones. You can use a vegetable peeler to then trim off the dark bits left at the base.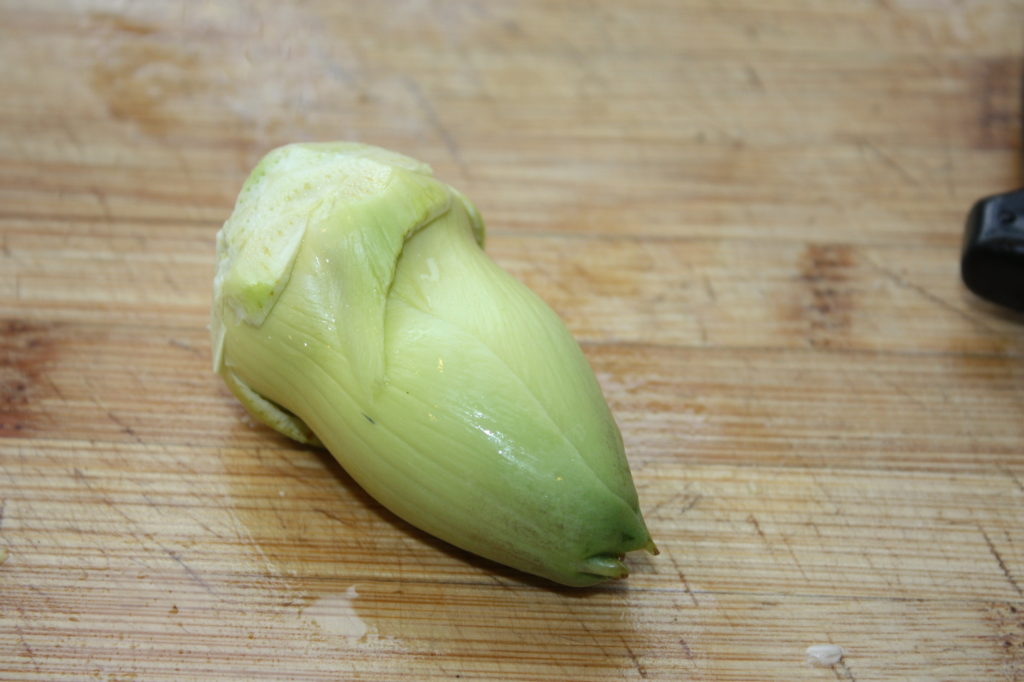 Cut the artichoke in  half lengthwise and scoop out the "choke" part, the inner hairy part. If the artichoke is small enough, there may not be any choke to remove. You can just a teaspoon to scrape the choke out but I've found that a grapefruit spoon does a great job.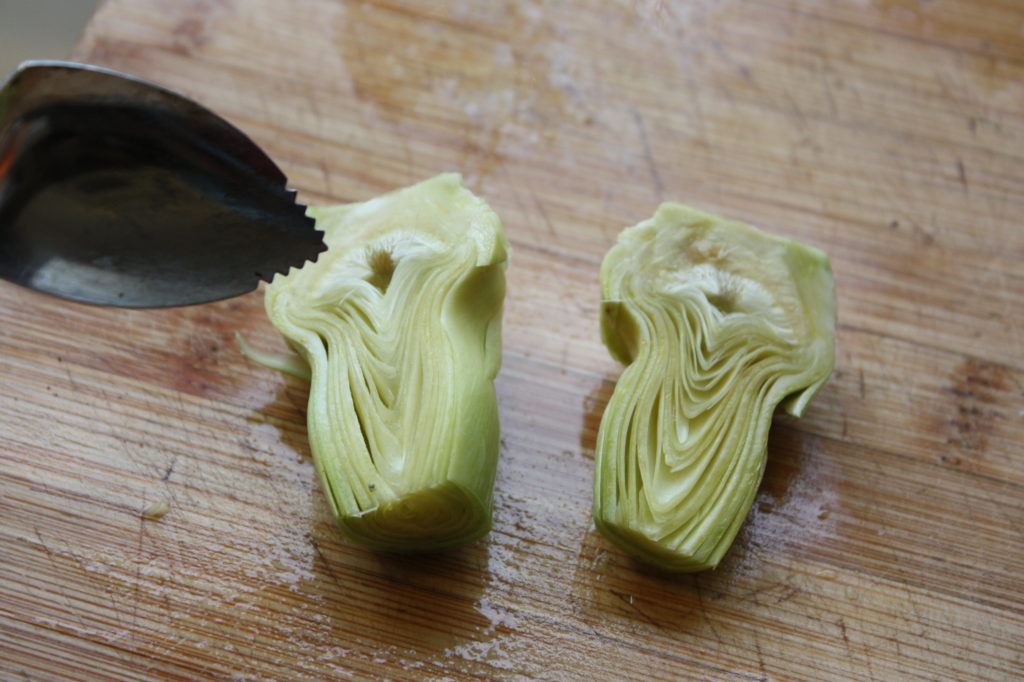 If you want to cook them, just rub the cut ends with the other half of the lemon and drop them into the water until you're ready to go.  You can either do halves or slice them again into quarters.  Toss with a little olive oil and throw them in a grill pan on your barbecue for 10-15 minutes. Salt lightly and serve. Or dip them into a beer batter and fry them, drain on paper towels and squeeze some more lemon juice on them and sprinkle with a bit of salt.
If you want to make the raw artichoke salad, slice them as thinly as you can can lengthwise and toss all the slices into the lemon water until you're ready to eat.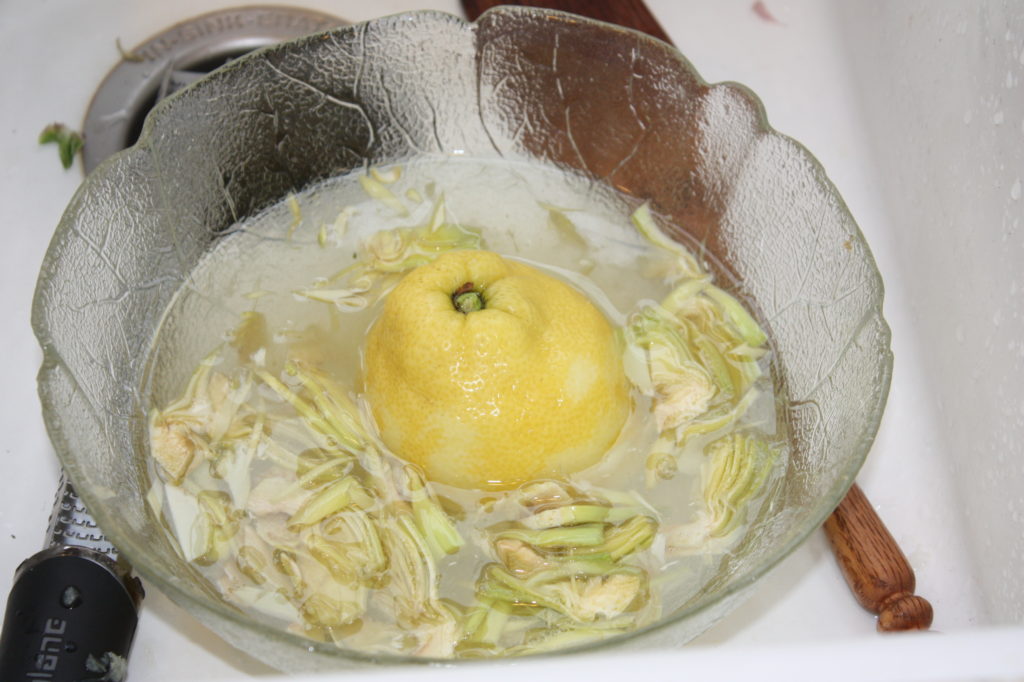 When you're ready to eat, drain the artichoke slices and pat dry and put them in a bowl.  Toss with some olive oil and lemon juice. Use a vegetable peeler to make some nice strips of Parmesan and serve.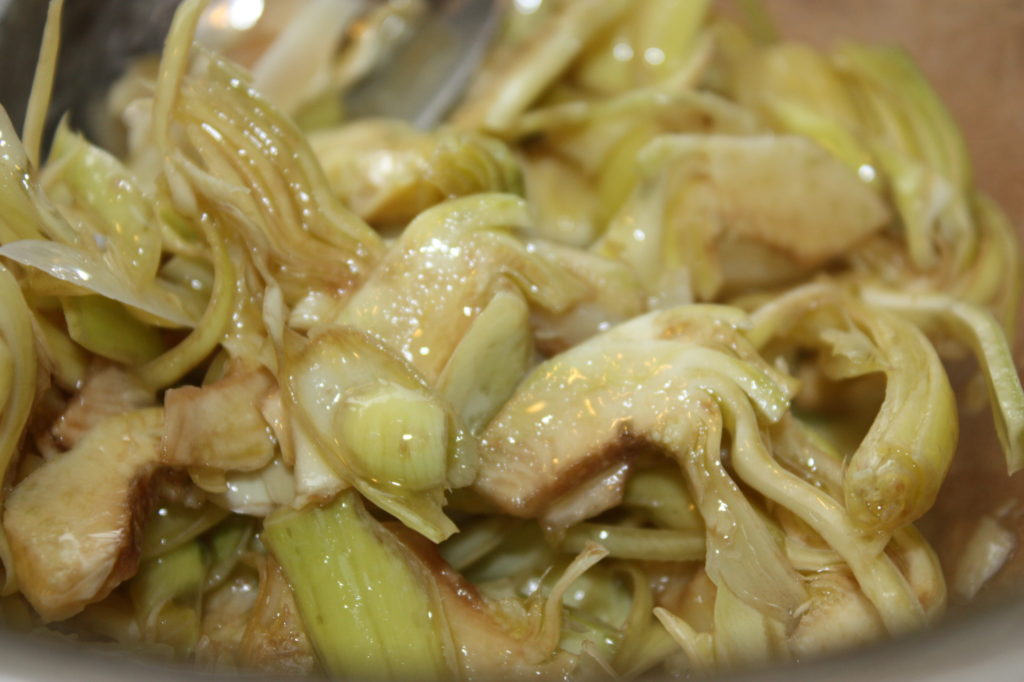 Raw Artichoke Salad
Ingredients
8

small artichokes

2

lemons

3-4

Tablespoons

olive oil

salt

2

ounces

shaved Parmesan cheese
Instructions
Squeeze half a lemon into a bowl of cold water.

Clean and trim the artichokes, then slice in half lengthwise. Rub the cut artichokes into half a lemon. Scrape out the choke, then slice lengthwise into as small a slice as possible. Put the slices in the lemon water until you're ready to eat. (You can do this ahead of time.)

Drain and dry the lemon slices and put them in your serving bowl. Pour the olive oil over the slices, and then squeeze in the juice of the remaining lemon. Toss well, seasoning to taste with salt. Add the shaved cheese and serve.
Some of my other favorite artichoke dishes include Pasta with artichokes and bacon and a Frittata with grilled artichokes, as well as just plain fried or grilled artichokes, usually seasoned just with salt but sometimes with oil and lemon juice.