Scalloped potatoes I've made before, but scalloped cabbage? Oh yeah!
I was reheating some frozen potato pancakes (latkes) for dinner and wanted something on the side. It had been rainy and cold all day so something warm and comforting was needed.
I had just a bit of cabbage left over and thought I'd cook that up. I was originally going to just slice it and cook it in some butter, which is simple and good. But I glanced through a few cookbooks and saw this Scalloped Cabbage in A Gracious Plenty: Recipes and Recollections from the American South and I did a quick pivot.
You still start by slicing the cabbage and cooking in a bit of butter and garlic. Add a little salt and pepper and cream, then put it in a buttered baking dish and bake at 325 for 20-25 minutes. Sprinkle with paprika if you remember. I forgot. It was still excellent. I used a small au gratin dish (Amazon link) to bake the cabbage. They come in very handy!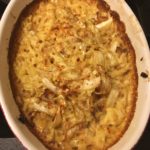 Print Recipe
Scalloped Cabbage
Ingredients
1

medium head of cabbage, sliced

3

Tbs

butter

3

cloves

garlic, minced

salt and pepper to taste

1

cup

heavy cream

paprika
Instructions
Preheat the oven to 325 while you cook the cabbage.

Heat the butter in a large skillet and add the sliced cabbage. Add the minced garlic when the cabbage is tender and cook a few more minutes.

Salt and pepper to taste and stir well, then stir in the heavy cream.

Butter a baking dish and put the cooked cabbage and cream in it. Bake 25 minutes. Sprinkle with paprika when you pull it out of the oven.
I just eyeballed it last night because I was cooking for just one. Man, was it good! I will definitely be making this again.
How to Reheat Frozen Potato Pancakes
The potato pancakes had been made a month or so ago and I flash froze the extras, then put them in a freezer bag. I put the frozen potato pancakes on a baking pan and baked at 350 for 20 minutes or so. They came out great!